Franchisees get NZQA certificates presented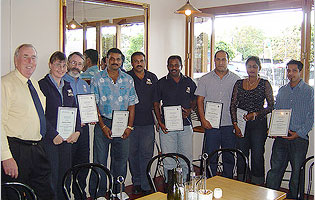 It was a rewarding day for a group of Crest Auckland Franchisees when they were presented with their certificates for the NZQA Limited Credit Programme in Cleaning recently at Ellerslie. Already 142 of over 200 Crest Franchisees have completed course one and 75 have completed the Limited Credit Programme in Cleaning. Crest aims to have all its Franchisees achieving their National Certificate in Cleaning and Caretaking. Last year, Crest recognised a need for a standardised training programme which could be implemented throughout the country.
Crest has appointed NZQA Accredited Course Provider and Building Service Contractors Industry Training Organisation (BSCITO) assessor Jim Brand from Napier, as its National Director of Training.
Jim Brand said training in the cleaning industry was badly needed and Crest's standardised training programme was important. "There are about 10,000 employees in the New Zealand cleaning industry and only five percent are doing any training. Crest make up a third of the five percent", Jim said.
Since June last year, Mr Brand has travelled throughout New Zealand to work and assess Crest Franchisee training groups, and put his knowledge and expertise into Crest's new Quality Training Manual, which is to be distributed soon.
This means that Crest Franchisees are being trained to the highest level possible in the New Zealand cleaning industry, and being internationally recognised for their efforts.The training programmes made up of three – two-day courses. The courses – at no cost to the Franchisees – are a stepping-stone towards the National Certificate in Cleaning and Caretaking.
The courses are based on unit standards, and to achieve the Limited Credit Programme in Cleaning, the Franchisees must gain at least 20 credits and 45 credits to complete the National Certificate.
More than 35,000 businesses and organisations are involved in industry training, the formal workplace learning programme designed to develop skills and qualifications, boost an organisation's competitive advantage in their industry, and lead towards an overall increase in the level of skills across the New Zealand economy.
Crest is happy to be providing these training courses, as we believe the path to a successful career is paved with skills to be learned along the way.