Cleaning up the Competition
As recently published in Idealog Magazine: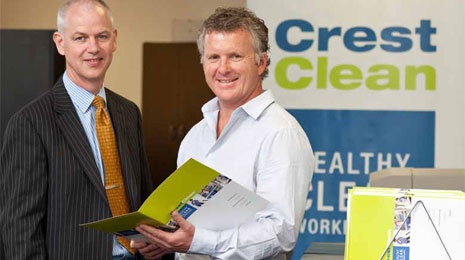 It's hardly the favourite thing to do around the house, but outside of it, cleaning is big business. Just ask Grant McLauchlan of Dunedin business CrestClean.
McLauchlan and his business partner, Rene Mangnus, bought a small Dunedin cleaning company in 1996 with an annual turnover of $80,000. Rebranded CrestClean, it became the pilot operation in what is now an international commercial cleaning business with more than 300 franchises throughout New Zealand and India, and operating revenue of $25m.
The directors chose the commercial cleaning industry for its size and cash flow stability. At the time, the industry was also dominated by a large, foreign-owned corporate with high staff turnover, so the company saw the chance to establish a quality New Zealand brand. Successful overseas, but in its infancy here, the franchise model offered scalability without the liability of leasing business premises, says McLauchlan.
After two years in operation and the sale of five franchises, the business expanded to Christchurch and then Hamilton. In 2002, the board was expanded to include an experienced independent chairman, and capital was raised through an offer of shares under the Investment Opportunities Scheme at that time. The directors set about their vision of creating a respected New Zealand brand in the industry.
CrestClean now has 305 franchises, managed by 15 master franchisees in 17 regions. Training, health and safety, environmental compliance, security and customer care form the backbone of their business philosophy. CrestClean is the largest trainer registered with the commercial cleaning NZQA Industry Training Organisation and continuous upskilling of its personnel is crucial to success. CrestClean has also introduced its own range of environmentally responsible cleaning products.
A major component in its success has been its banking relationship with Bank of New Zealand, which began in 2002. "In the early years, the challenges were all about financing the business," says McLauchlan. "Especially when we were growing quickly. You soon learn that finding the right banking partner and managing your balance sheet is very important." BNZ has helped CrestClean meet various challenges by maintaining a good understanding of the business and how it operates. For the past six years, CrestClean has been working with BNZ Business Partner Alex Newdick who admires its directors' endeavours.
"CrestClean is successful first and foremost due to the governance by its board of directors," he says. "There's a strong focus on quality, training and service, with great systems in place. They work hard to look after their franchisees."
BNZ initially offered CrestClean an innovative facility called Debtor Finance. Now known as Invoice Financing, it lets customers immediately access up to 80 percent of the face value of approved invoices through Internet Banking for Business, helping businesses free up their cash flow.
CrestClean was the first of its clients to benefit from the product, and McLauchlan says BNZ's support of CrestClean in 2002 was a major contributing factor that allowed him to continue to implement his business plan.
"We were struggling to finance growth and the other trading banks demanded bricks and mortar as security. We had a strong business and considered our cash flows sufficient collateral. BNZ's Debtor Finance facility was exactly what we were after.
It supported our growth through to November 2005 when we transitioned to mainstream banking facilities again."
BNZ continues to provide working capital and banking facilities to help CrestClean achieve its goals. Relationship banking is another component of its offering, with a diverse range of presenters on offer, including BNZ chief economist Tony Alexander and entrepreneur Sir Richard Branson.
A significant development for CrestClean has been recent offshore expansion. A successful master franchise owner returned home to New Delhi and asked about a country licence for India. CrestClean India has been trading for 30 months with current revenue of $NZ1.5m. Strong growth is
forecast for the operation thanks to accounts with Indian government agencies, schools and medical services.
"BNZ is an innovative bank and we are very happy customers. Picking up on our offshore expansion plans, they've already indicated the availability of resources to help us access Asian markets," says McLauchlan. "Having the flexibility and support of the BNZ means we can get back to growing the business rather than worrying about the timing of our cash flows."
Those plans for growth include a five-year goal to more than double the size of the business. "Our strategic vision is to become New Zealand's most successful and recognised commercial cleaning company," says McLauchlan.
"Internationally, CrestClean will expand the business model into other Indian cities, and target the sale of country licences to Singapore, Malaysia, Vietnam, Korea, Philippines and Indonesia."