CrestClean sponsors the New Zealand Principals' Federation website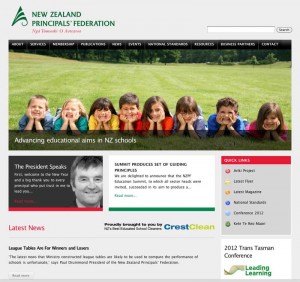 CrestClean have become the first company to sponsor the the New Zealand Principals' Federation new website which was redesigned and launched in December 2011.
Crest Commercial Cleaning Ltd has sponsored the "News" section, which is one of the most  viewed parts of the website: see www.nzpf.ac.nz
As a company we are very happy to support the Principals' Federation, says Crest's managing director Grant McLauchlan. We think the Federation does a great job of supporting NZ principals, particularly in the tough political and economical climate we have had in recent years.
The Federation, which represents more than 2,300 principals from the education sector, was first established in 1982. It provides support and a professional voice for members throughout New Zealand, also information and professional resources, legal support and advice as well as a number of publications and a helpline.
CrestClean is proud to support the Federation as a Bronze Business Partner, since 2008.
Click here for more information about New Zealand's best educated School Cleaners