Presentee-ism; Introducing the working dead
From the first cold day of the year, we start to see advertising from the pharmaceutical giants… "Soldier on" and " Stop the flu– before it gets you". Generally speaking, a few days away from the office letting the flu or a heavy cold run its course, is a last resort for busy types.
There is a word for this 'soldiering on' at work… Presentee-ism. It can be worse for an office than absenteeism. Turn up to work sick – do less and spread germs, others can get sick.
Most of us recognise early symptoms of a cold or flu and reach for remedies to prevent a runny nose, sore throat, coughing… Believe it or not, those annoying symptoms we experience are part of the natural healing process. Enduring a moderate fever for a day or two may actually get you well faster – best to stay at home though! Coming to work when ill can have a bottom-line affect on productivity. That's Presenteeism, which is the impact of an employee working while sick, in a state of decreased productivity.
The spread of illnesses in the workplace can be reduced by sanitising touch surfaces to kill any bacteria and viruses. Common touch surfaces to sanitise are: reception areas, staff kitchens, fridge and microwave door handles, photocopier controls, keyboards, mice, telephones, desks and workstations.
The Value of Cleaning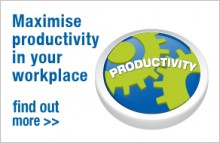 The Value of Cleaning stretches well beyond that of mere appearance. It is an investment in human health, the workplace environment and an improved bottom line.
In recent years international research has focused on the impact that proper cleaning has on reducing absenteeism, and in turn how reduced absenteeism increases productivity and ultimately profitability.