Alistair and Mary McCormick – Dunedin Franchisees
"After his fourth redundancy Alistair McCormick thought 'bugger it', I'll do something on my own."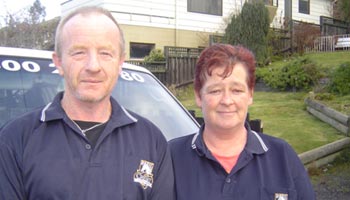 Now he and his wife Mary run a successful Crest franchise and are Crests only carpet cleaners in Dunedin, they have also recently expanded into specialised floor polishing and business is booming.
Like many Crest franchise owners, they run the business as partners.
"We wanted to work together, Mary realised she was doing so many hours working for someone else and thought 'why not work with me?'" says Alistair.
It's very much a family business with their daughter Aimee and their son's girlfriend Louise often helping out.
When asked about revenue Alistair just laughs;
"My first pay check I took from the company was $200, but it didn't take long to grow. Now with the additional carpet cleaning and floor polishing the revenue just keeps ballooning!"
As with many business owners, it's not just the money that gives this couple satisfaction.
"We're constantly up skilling; I have an NZQA qualification in carpet cleaning. I'm getting particularly skilled at the floor polishing and building a reputation for myself –a lot of people are specifically asking for me" says Alistair. "All of that has helped me build my confidence and that's a great thing."
Alistair had previously looked at going into a franchise and in his words 'got screwed over'. So they were wary when approaching Crest. However, the decision was made when he met CEO Grant McLauchlan.
"Grant seemed like a good guy, the kind of person you take at face value, very honest. Yet I knew we would take on the franchise when we walked into Grant's office and he was dressed like us. No suit and tie, just casual, that was important."
The face value judgement seems to have held true with Alistair saying that he can walk into Grant's office and he'll always have time for him.
"He is very approachable, everyone at Crest is, you can have a laugh with them, if you walk into someone's office and you're afraid of them there is something they're not doing right!"
Currently they don't have any plans to expand yet Alistair acknowledges that if an opportunity pops up he'll take it – taking on the carpet cleaning was one such opportunity that is paying off. The financial stability has definitely given the couple peace of mind yet their core motivation is for their children.
"This might sound a bit different but I structured our business around our kids' lives. I don't want us to die and to leave them with debt. That's what happened to us and it's not nice or easy. "I don't ever want my kids to have to pay my debts; our ultimate goal is to leave no financial burden on our kids."
He does admit though that once that's sorted there's a trip to Australia on the cards for Mary and himself.
"I really want to take Mary to Australia at some stage as we've never been so that's got to be a definite on the to-do list!"