Heidi Harrald – Dunedin Franchisee
" Working at night, I didn't like ". Heidi negotiated with clients to allow daytime cleaning, working around 10-15 hours, four days a week – with her staff handling night shifts.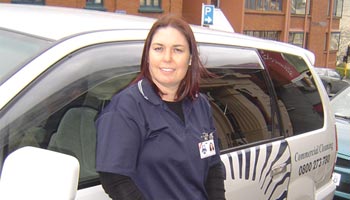 Life for Heidi and Quintin Harrald changed dramatically in December 2009 – a life-threatening workplace accident at a Dunedin transport company hospitalising Quintin for 10 months.
In a coma for three of those, Heidi wasn't sure her husband would survive. She spent every weekend initially driving four and a half hours from Dunedin to Christchurch to be with him.
Business back home had to carry on – and Crest's support helps through an arduous time. Quintin and Heidi have a long haul – battles with ACC, major renovation on their hilltop home needed before Quintin can return. But at least he's back in Dunedin – albeit still under specialist treatment, while Heidi runs her business – cleaning.
It's almost therapy.
Originally from South Africa, the couple followed Heidi's parents to the South Island, setting up home initially in Gore before moving to Dunedin. Heidi had several jobs before taking a year off and deciding to work for herself.
" It took a while. But I saw an ad in the paper. It wasn't a spontaneous decision and I got my parents involved," says Heidi.
Work had to revolve around her two boys, but the money was good and Heidi liked the fact Crest found the clients and did all the invoicing. The hardest aspect was the couple's debt – given their relocation from Gore to Dunedin. Heidi was buoyed by Crest's guarantee of contracts and income – and they borrowed another $16,000 to gross $40,000.
Heidi admits she found it hard to start with – a kindergarten contract tough to handle at first. But, the couple had goals; Quintin there to help with the heavy stuff and a five-year expansion in mind.
They were on track too – until Quintin's accident. They'd already increased business, employing staff within four months.
" Working at night, I didn't like it," says Heidi. "It was lonely and unsafe and i didn't want to be out all night. I had to have safety measures. " A girl approached me and asked for four hours work. That made me think: if I had a spare person, I could halve the time and buy more."
So after just four months, Heidi invested a further $20,000 for a $60,000 GTO. But even within a month, Heidi had picked up contracts on her own accord. That brings in about $18,000 – income she didn't have to buy, and one of the other incentives that makes Crest worthwhile, according to Heidi.
She currently has five people on call – " her backbone" now, since the accident.
Heidi has learned lessons about finance – cashflow is king and Crest has given her that ability.
Life these days revolves around Quintin, children and getting their back to normality – whatever normal is, considering Quintin's injury.
Heidi negotiated with clients to allow daytime cleaning, working around 10-15 hours, four days a week – with her on-call workers handling night shifts.
Despite all the hardship, Heidi appreciates the flexibility Crest gives her – most especially the guaranteed income.
The support's been huge, but to Heidi it's simple. " if you don't succeed, they don't succeed.".
She likes the training, the working- smarter -not- harder approach – and the long-term future Crest offers for herself and Quintin.
Personal goals are on hold – a wheelchair- friendly home the first priority. Heidi just wants her family back under one roof.