Meet Hilda Whatuira-Davies and Willies Davies – Dunedin Franchisees
"Crest has given us a lot of freedom for ourselves. Our goal is to be debt free by 2012, semi retired soon after and employing others." says Hilda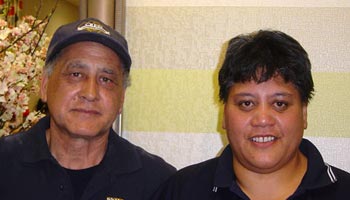 They have overcome sadness, hardship and mental mind-shifts – but Hilda Whatuira- Davies and husband Willie see brighter times ahead.
Crest has given them opportunities they never had working for employers. Today, they control their destiny – aiming to be debt free by 2012, semi retired soon after and employing others.
Home is a quaint fishing village 40km south of Dunedin – Taieri Mouth. Work, however, is in Dunedin – about the only adaption Hilda and Willie didn't make when changing their lives.
Hilda started the ball rolling – redundancy from Sealord forcing her hand initially. She found work at a furniture removal company but it wasn't enough – and Hilda went looking.
" I tapped into things I could do – and I knew I could clean."
Searching the internet for a cleaning company to work for, Hilda saw an opportunity to actually buy a franchise.
"I found out about a lady who worked with Crest and knew she was selling the business so I inquired," recalls Hilda. Sold by the time Hilda made the call, the woman introduced Hilda to Dunedin regional managers Nick and Jackie Rogan. The money appealed, but it was Crest's systems that really inspired Hilda.
"I liked that they do the paperwork, which enables me to concentrate on the job. It allowed me to be the cleaner that I am. Crest does all the taxes and they provide the contracts."
Now NZQA qualified and holding a national certificate, Hilda says Crest's ongoing training and support is incredible.
"It's unbelievable."
She used redundancy money and started small, buying three clients for $20,000 to gross $40,000 – but Hilda soon wanted more.
"I found within three months it wasn't enough. I knew I could handle a bigger workload and doubled it within six months."
While Hilda says the initial commitment of being in business was scary, she knew she could clean. Besides, it was time for a challenge – even adapting to evening work.
If it was a big mind-shift for Hilda though, Willie faced a huge hurdle. Driving trucks for over 20 years, he was away from home most of the time. Spending 24/7 together was different – but it's worked.
The death of their eldest child in 2009 changed everything and was part of the catalyst that made Willie resign from his job and join his wife. Used to working on his own, it was a major transition , but Willie has no regrets. Hilda and Willie have held together – supporting each other as they rebuilt their lives and found new focus.
"Crest has given us a lot of freedom for ourselves. Our goal is to be debt free by 2012," says Hilda. Hilda and Willie already employ a worker four days a week, working themselves from 5 to around 11pm every evening. They intend expanding after 2012, employing more people and freeing up time for themselves. A holiday is also on the agenda.
" We've never ever had a family holiday, due to money," says Hilda. " In time we'll be able to."