Meet Mohammed and Sharina Khan, Palmerston North Franchisees
Even when doors close on people at times – determination, family support and help from Crest can open a new door and turn life around.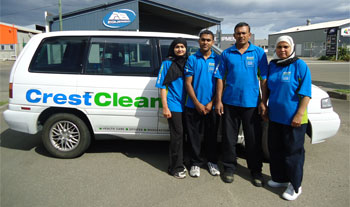 In just a few months of taking on a Crest franchise, Sharina Bibi Khan is looking to a time when she can buy a house and have her husband working alongside her as masters of their lives. Mohammed's working life right now is in the freezing works, but Sharina hopes it won't be too long before he can give that up. Three children and a son-in-law are already helping Sharina – and at some point, they might take on a franchise of their own. Right now, daughter Tasneem Khan and her husband Samil Anthony, together with Sharina's sons Mohammed Tasnif Khan and Mohammed Tanweer Khan, all work in Sharina's business.
It's five days a week – from 5.30pm to around 11.30pm – cleaning offices in big buildings in Palmerston North. The mid-central town has been home to the Khans for several years now. Mohammed moved from Fiji to New Zealand first – finding work in the freezing works in Fielding – before his family joined him a couple of years later. Used to working back home, Sharina didn't really enjoy a sedentary life in New Zealand. Money was tight and, with other siblings in Auckland earning good income from a franchise business, Sharina began looking.
She spotted a Crest advert in the local paper, contacted regional manager Steve O'Connell and heard what Crest offered. However, with no money and no house, the bank wouldn't approve a loan. Sharina says Steve then contacted them offering support if they could come up with a lower-entry investment that gave $50,000 turnover. Effectively it was a cash discount with more clients than they bought; training and NZQA qualifications that raise Crest's credibility, plus the management back-up that removes the paperwork.
Sharina enjoys that aspect.
"It's a great help. They do all the GST and the bills. I don't have to do any of that." She says the support from Steve and Crest is good and she enjoys the work. Cleaning isn't difficult; and having family help makes life even easier. Because they are cleaning after hours, work is more solitary. Crests systems maintain communication however, thanks to a duty book in which comments can be made to and fro. Sharina receives good compliments, which boosts her confidence and pride.
Doing a good job is important, but it's the end goal which is Sharina's real incentive – creating more income, buying that first home and having family together.
"As soon as we pay off the loan, my husband will come in. Working together as a family we have more money," she says. "I was staying at home. This way now I have a job. It makes me go out, it freshens me."