Pinakin and Falguniben Patel – Tauranga Franchisees
From a humble $20,000 turnover business in Auckland to $180,000 business in Bay of Plenty with a great lifestyle.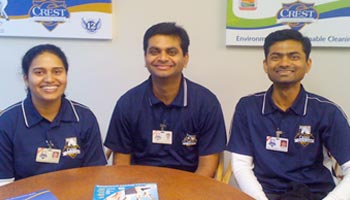 Pinakin and Falguniben Patel prove what can be achieved by hard working franchisees. Pinakin started his business almost seven years ago by purchasing a $20,000 turnover Crest package in Auckland.
There were two aspects that initially really appealed to Pinakin – the fact Crest handled all the GST and tax accounting and the knowledge he wouldn't have to "on sell" the entire franchise, when the time came to move on.
Today, after choosing to relocate his business to the sunny Bay of Plenty, he and his wife Falguniben run a very successful business turning over $180,000 plus they've managed to also purchase a rental property in Auckland.
When asked why they chose to move to Tauranga, Pinakin answered "We knew there was plenty of work in Tauranga, and the lifestyle is great. Also smaller cities have less travelling time between jobs so we can fit more productive work into each day."
The Patels have worked the business around their lifestyle – starting their first round after school and finishing off the last of the offices around 11pm. They also work their business smartly so they have weekends basically off, working only one hour each Saturday.