Crest welcomes our first Whangarei franchisee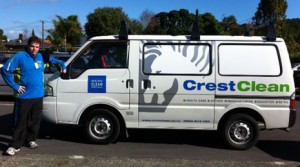 CrestClean has recently expanded into the Whangarei region and would like to welcome our very first Whangarei franchisee, Aaron McLeish.
Aaron has resided in Whangarei for the last 3 years, and prior to Crest was involved in the earthmoving/construction industry in Pine Forests within the Whangarei region. Prior to this he was a Grounds/Maintenance Manager at Tui Ridge Park, Rotorua.
Aaron was attracted to Crest after looking at a change of lifestyle. The cleaning work schedule allows him to peruse other interests and study during the day, which was previously was not possible. He likes the training and effort Crest puts into its franchisees to ensure a high quality of work and pride in the services supplied, and the opportunity to work towards financial security.
Welcome to Crest Aaron, we wish you all the best in your new venture!