CrestClean Sponsors Deserving Kids into the LeslieRugby Coaching Clinics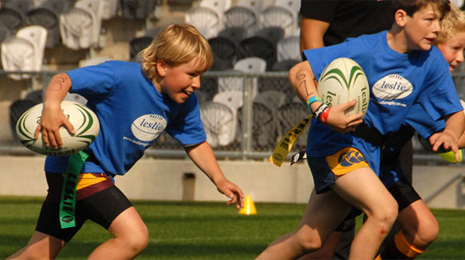 CrestClean strongly believes that inspiring kids through sporting opportunity is incredibly important. That is why we are working with LeslieRugby and we are offering a junior coaching clinic experience to deserving pupils from schools throughout various regions, for children aged 6 to 13 years.
 
LeslieRugby coaching clinics focus on teaching core rugby skills and techniques to junior rugby players. The goal of the coaching clinics is for the participants to enjoy a fun and safe day of rugby action, to learn new, and improve existing skills and to importantly understand the pathway of how to correctly practice skills until they are mastered.
 
The LeslieRugby coaching team comprises of ex-International and current professional rugby stars, current provincial representatives, premier club players and selected outstanding local 1st XV talent.
 
CrestClean are covering the cost of the attendance at the LeslieRugby Coaching Clinics. The children also get to take home a ball, a LeslieRugby T-Shirt, and a photo of them in action taken on the day.
 
Here are a few words from a child who was chosen by their school Principal to recieve a CrestClean Sponsorship to attend the LeslieRugby coaching clinic:
 
Wow, well I've always wanted to be a rugby player. I have always been inspired by Richie McCaw and Daniel Carter.
It has always been my dream to be a rugby star. This is the best thing that's happened to me in my ENTIRE LIFE.
 
Thank God.
Thanks Mr Dale.