Meet Dunedin Franchisees Nene and Ato Feliciano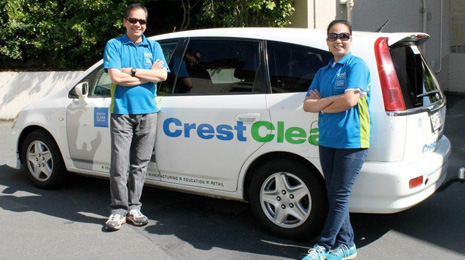 Nene and Ato Feliciano moved to Dunedin from the Philippines with their family some five years ago to start a new chapter in their lives.
Ato started working at MacRaes Mining, which was a 200km round trip and required him to be away from his family for at least 15 hours every day.
In the meantime Nene had friends who introduced her to CrestClean, and she was excited enough by what she heard to get her husband Ato along to a meeting with Regional Director Mr Tony Kramers.
Nene and Ato joined CrestClean in December 2011, and have not looked back.  Proudly servicing 15 clients, they have built a loyal following of both clients and colleagues.
The key reason for their success is that they "work by heart" and go the extra mile for all their customers. This includes creating and sending Appreciation Cards at Christmas and Easter, and leaving gifts for clients such as sweets and cookies.
One of the most important benefits for them has been the chance to spend more time as a family, with all four of their young adult children helping in the business at different times.
Ato is particularly pleased as the money is better than he was earning in the Mines and the hours are much more family friendly.
Since joining CrestClean Nene and Ato have become proud ambassadors for the business, and have to date inspired 4 families to join CrestClean through various initiatives including booking a Boardroom and inviting members of the Filipino Community to attend a Meeting.
Nene and Ato's 3 Key reasons why they love CrestClean:
You have your own time with CrestClean, and have flexible working hours.
It is a low risk and low stress venture.
If you do your job right, your customers will love you.