CrestClean and Hub West building a brighter future for the youth of West Auckland
One of the things that make CrestClean franchisees successful is their passion for being involved in their local communities. This is especially true in the West. In the heart of Henderson South, CrestClean franchisee, Naveen Chand manages the cleaning contract to community center, Hub West.
Hub West and CrestClean have been working together to provide the local youth with opportunities to learn and develop important life skills such as cleaning.
In August, Master Cleaners Training Institute and CrestClean held a cleaning training session at Hub West for the young people who attend the After School programme to teach them about basic cleaning and hygiene practices.
Naveen has managed the contract for Hub West for a little over a year and he says it is all going very well. He says, "It is a wonderful facility that our local community can use and keeping it clean and tidy and in new condition as it was when it first opened makes my team and I very proud".
The organisation MPHS runs Hub West which alongside being a youth center, is a community center for events, workshops, birthday parties and even weddings.
Aroha Te Namu, the Youth, Whanau and Learning Manager for Hub West says, "Predominantly The Hub is about looking after our community and offering opportunities to our community".
In hiring local volunteers, Hub West is able to provide people from the local community with work experience to help develop their skills. Aroha says that some volunteers have gone on to tertiary education as a result, and some have even secured permanent jobs at MPHS.
The flagship to the organisation Aroha explains is the local youth.  "It's all about the kids…all about our young people," she says. Hub West runs an After School programme in The Studio building where young people from local schools can go after school to gain a variety of important skills.
The Studio is one of six in New Zealand and features a range of different learning opportunities including various computer skills, fashion and sewing, web design and coding, art, music, movie production and cooking; some of the young people even have their own cooking channel on YouTube!
Rebecca George-Koteka, the Community Development Manager says that MPHS worked with youth aged 13-14 years old at The Studio in Otara and from 2007- 2009 the skill set of the kids was equivalent to those at TVNZ!
So it's not all about doing homework at Hub West, it's about offering the young people of West Auckland a place where they can learn invaluable skills that will help to guide them to their ideal careers later in life.
CrestClean and Master Cleaners Training Institute use Hub West as their training venue and in August 2012, Master Cleaners Training Institute CEO Adam Hodge and CrestClean West franchisee, Naveen Chand presented a cleaning training workshop for the youth in after school care.
Learning basic cleaning skills and responsibility is so important to these young people. Aroha says, "A part of the Ethos of the studio building is that the young people need to gain basic skills- part of that was learning how to clean up after themselves".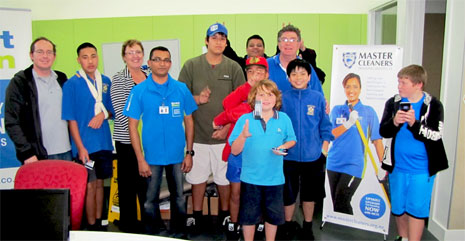 The workshop included filling out cleaning questionnaires and answering questions such as: "Where do you think the air is most contaminated? At School, at work or at home." Correct answers were rewarded with chocolates and everyone enjoyed the workshop.
Naveen showed the young people the CrestClean microfiber cloth system and did some display window blading. He also talked about the bacteria on the keyboard-this was especially important to the children as they work with a lot of computers in school and in The Studio. He also explained to the young people about safely handling chemicals and other important cleaning knowledge.
West Regional Manager, Caroline Wedding says that the workshop was a success and that Naveen and Adam managed to keep the kids attention the whole time. Rebecca and Aroha said it was informative and that the workshop was delivered in an effective way. "Adam never talked at them, he actually involved them and joked and got a reasonably serious message across" Caroline says.
CrestClean in the West already has a high level of involvement with local schools and Caroline is keen to continue to stay involved. She says she wants to present a cleaning training workshop to young people from Hub West again. She says it would be good to do it twice a year to educate new young people coming in to Hub West.