Whangarei Franchisees Loving CrestClean Life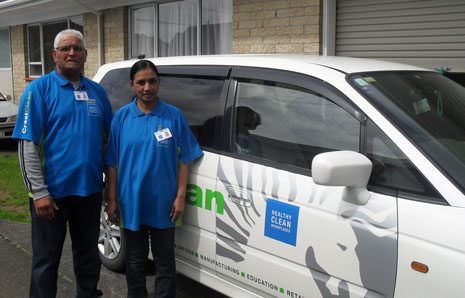 Regional Manager for Whangarei, Neil Kumar says that the Whangarei region is definitely developing and he sees huge potential in the area. Neil says it is harder to find clients as businesses are more likely to hire relations for cleaning contracts.
Currently there are three CrestClean teams in the area and the potential for success in the area is growing as he says there is less competition around.
CrestClean franchisee, Kamal Naidu is satisfied with his decision to start up a CrestClean franchise in Whangarei. Having previously worked in the building industry, Kamal is proud to join CrestClean.
Since starting in December 2012 Kamal already has 10 customers and has seen a satisfying increase in his salary. He says he receives good feedback from customers so it is no surprise that he is doing so well.
At the moment Kamal is working alongside his wife, Pramila Naidu. They are both working hard and enjoying the more affordable lifestyle that Whangarei has to offer.
He says that "Crest is a good company" and he has a good relationship with Neil and his clients. In fact, these good relationships he says are what he loves most about working with CrestClean.
He enjoys working with CrestClean and says that the good hours and more free time makes it more suitable and enjoyable than his previous job. In his free time Kamal enjoys relaxing and spending time with his friends and family.
It's stories like these that really highlight how people can make CrestClean work for them and help them to secure more free time in their lives whilst still earning a decent salary.