CrestClean a Hit at the Hawkes Bay Primary Principals Association Conference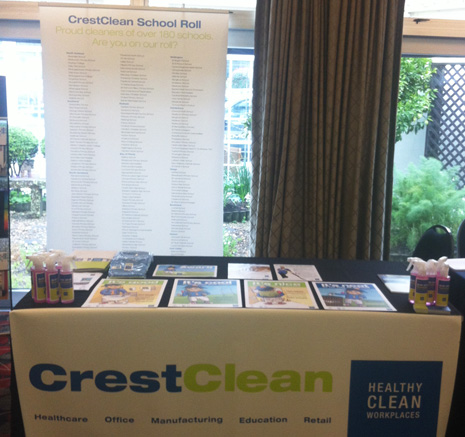 CrestClean Hawkes Bay is a proud sponsor of the Primary Principals Association and recently attended the Hawkes Bay Primary Principals Association Conference held in Taupo.
Out of 12 sponsors, CrestClean was the only cleaning company at the conference.
The event gave Hawkes Bay Regional Manager, Abby Latu and National Sales Manager, Chris Barker the chance to liaise with 55 school Principals and to get the CrestClean brand out there in front of them.
"We had some fantastic conversations with some of the principals and it was great to be able to speak of what we are about and for me to get my personal branding out there as well as the CrestClean brand at large," she explains.
As well as having a CrestClean stand set up at the conference, Abby and Chris gave away corporate promotional gifts and mingled with many different people.
Abby says, "It was getting our brand out there and known and recognised so when schools think to move to commercial cleaning – they think CrestClean."
The event was a success for Hawkes Bay as Abby says that they already have three proposals on the go because of it and that they are receiving great feedback from their current school clients, "These guys are of course fantastic as referrals," she says.
With the new Health and Safety Regulations and positive word of mouth advertising she is sure that CrestClean Hawkes Bay can look forward to more traction with schools in the future.