CrestClean Hutt Valley Welcomes New Franchisees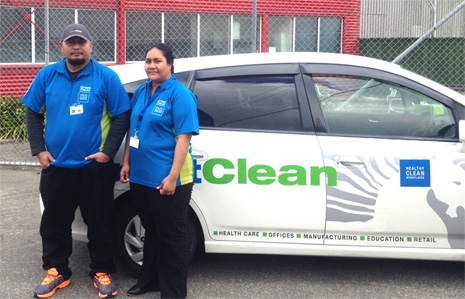 Hutt Valley is pleased to welcome a new CrestClean franchisee team, Olapea Apinelu and his wife Losa Fatialosfa.
Olapea is the primary business owner and plans to operate his franchise as a family business. It's all about family for Olapea, not only does he have 7 children, but he plans to expand his business to support his family living in Tuvalu, Pacific Islands.
Hutt Valley Regional Manager, Clare Menzies says over the last two months she has received a lot of positive feedback on Olapea and Losa's work.
"One in particular is Charta Packaging, located in Gracefield and Seaview, who have commented on how clean their offices are looking since CrestClean have been servicing them," she says.
With such positive feedback from customers already and an admirable dedication to his CrestClean franchise, it won't be long before Olapea achieves his business objectives.
CrestClean Hutt Valley is proud to welcome Olapea and Losa to the team, keep up the hard work guys!