West Auckland Floors in Good Hands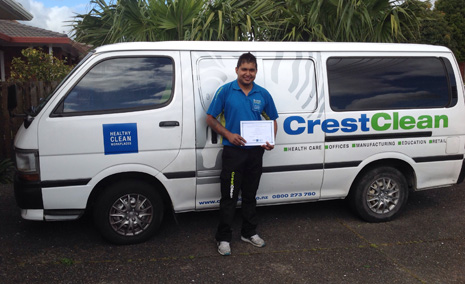 After being with CrestClean for little over a year, West Auckland franchisee, Atish Lal has completed training to become the new Floor Care Trainer for West Auckland.
He says that his new responsibility comes with its challenges but its nothing he can't handle!
Atish has always been a floor man; "I enjoy cleaning floors," he says, "it is a tricky job sometimes as some of the sites are very big so the floor areas are very big."
Atish is now in charge of training up new franchisees in West Auckland. "The training takes two days and is a lot more responsibility but I enjoy it very much," he says.
He says he enjoys meeting and training new people and seeing them learn new things.
Previously in the mechanical services industry, Atish received some advice from his brother-in-law to join CrestClean and lucky that he did!
He says he is enjoying working with CrestClean very much, he enjoys the flexible hours, the good money, the great relationships, and the free time he can now enjoy with his family.
"CrestClean is a wonderful company," he says.
Auckland West Regional Manager, Caroline Wedding says that Atish is a great team player and just a great guy all round.
Caroline says that Atish is showing initiative that you need in a trainer, saying, "He will go over and above the call of duty and meet his trainees on site and help set up gear. He is definitely one to watch."
Well done on all of your hard work so far, Atish and congratulations on your well deserved new role – all the best.