Introducing the Extreme Team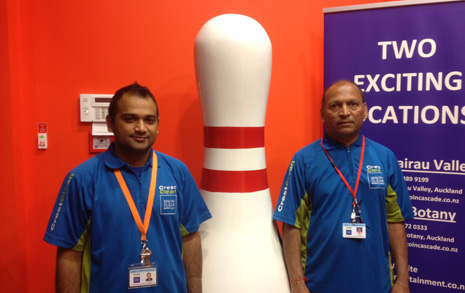 CrestClean franchisees, Kishorbhai and Varun Patel have an exciting new customer, Extreme Entertainment, a family entertainment complex on Auckland's North Shore.
Extreme Entertainment is a fabulous new facility and boasts two levels of fun for the whole family; including bowling, laser strike, Timezone games, pool tables, party rooms and licensed restaurants and bars.
Father and son team, Kishorbhai and Varun are delighted to be supporting and cleaning such an exciting new business.
Kishorbhai has been living in New Zealand for the last ten years, and in 2011, Varun left India to join him. They are both living on the North Shore and Varun says they love it. "It's a great place to live," he says, "It's very peaceful and we feel safe here, also it's great working on the North Shore because the area is quickly developing and we work very close to home."
Their decision to join CrestClean was made after talking to other franchisees and to North Shore Regional Director, Caroline Wedding. Varun says because of all of their support and recommendations, he and his father, Kishorbhai felt comfortable and excited to join CrestClean.
Varun says that working as a father and son team is fun and rewarding, "It's a great family business, and we support each other knowing that whatever we earn contributes to our business."
He says that he and Kishorbhai are happy working with Extreme Entertainment as it is close to where they live and the early morning work allows them to complete other jobs during the day. "The team at Extreme Entertainment is very friendly and helpful in nature. We feel very lucky to have them as a customer."
Caroline says, "Varun and Kishorbhai are doing a great job and Extreme Entertainment is very happy with their services. Well done to them both."