Jill Shepherd – a whole lotta' trainin' goin' on!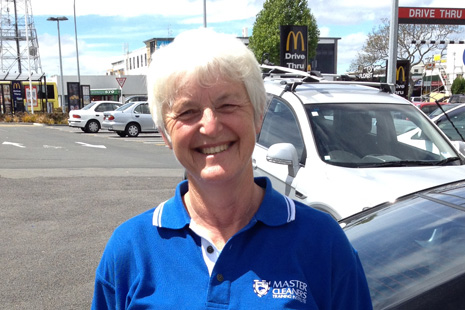 CrestClean Tauranga has a good story about a key person in their region – Jill Shepherd. 
Jill was keen to progress with a CrestClean Franchise and together they got the wheels in motion. She had owned other businesses – a coffee machine business and a photography business – but was interested in Crest's business opportunities for new franchisees.
Progressing nicely for six months operating her own franchise, Jill then saw another opportunity Crest had, for a new Induction Trainer for Tauranga.  Crest helped Jill move through the next level of training – which she passed with flying colours. Her first 4-6 months training Tauranga's new franchisees was a great success and produced some great franchisees who continue to give their customers a high level of service.
In February 2013 Crest established the Master Cleaners Training Institute in order to improve the content and delivery of its training courses for franchisees. Master Cleaners is an Accredited Training Provider with the British Institute of Cleaning Science. BICSc, as it is known, is the world's largest independent professional and educational body within the cleaning industry.
When Master Cleaners came to appointing a BOP/Waikato Trainer to train the other Regional Trainers in each area, Jill Shepherd was the first choice. Jill accepted the role and completed her next lot of courses and training levels in order to fulfil the role.
Now Jill is at the top of her game…operating her own successful franchise in Tauranga, and then running training courses and mentoring other Regional Trainers. Jill has a great manner with people, and her knowledge of the cleaning industry is helping her to inspire confidence in the trainers and franchisees that she assists and mentors.
Well done Jill, you are a great role model for others to follow, and Crest is very proud to have you as part of our team in Tauranga.
What can we say… Jill – you just GO GIRL.