Nepal to Napier… via Room 7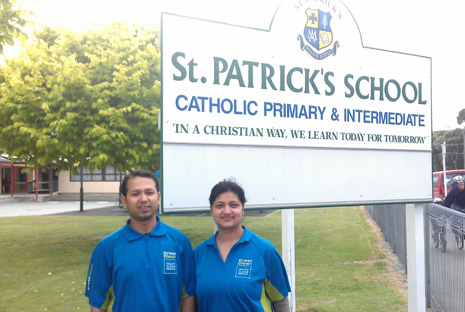 New Zealand is a multi-cultural society and CrestClean echoes, and celebrates this by providing opportunities for new New Zealanders to thrive in business. No better example is Prasun Acharya and his wife, Diksha Niraula, who hail from Nepal.
Prasun and Diksha have been getting involved with the students of St. Patrick's School in Napier, working hard and making a real difference to the cleanliness of the school.
Prasun and Diksha were thrilled to be invited to Room 7 to talk about their life in Nepal.
The children of Room 7 were excited to hear all about Nepal and the Everest Region, legendary Sherpas, Sir Edmund Hillary and the Himalayan Trust – all topics they were studying.
Prasun and Diksha spoke for about half an hour before opening the floor for questions.
Regional Directors, Abby and Fiva Latu say,
"It was a great learning opportunity for the students and almost all of them actively participated in the question session.
After a couple of weeks we received letter of thanks from the students. They mentioned how they enjoyed the session and how they would love to have Prasun and Diksha come back to answer more of their questions.
Well done to our fantastic franchisees – what a great story of our involvement within our schools here in the Hawkes Bay."