Great Training Venue Helping Franchisees Shine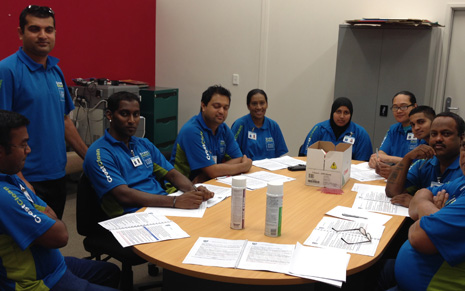 Regional Director, Viky Narayan reports that the latest two day floor care training course for new South Auckland franchisees was a huge success.
The course was held at Kia Aroha College in Manukau City. The spacious school hall provides the ideal venue for this sort of training, as open spaces are needed to demonstrate and utilise the floor cleaning equipment. Viky says, "There's usually a minimum of six trainees at a time, so for Health and Safety reasons a large space like the Kia Aroha College hall is needed."
CrestClean has been managing the cleaning for Kia Aroha College for eight years and Viky says his teams do a good job of keeping it in good condition. "Using their hall for our training works out well for both of us," he says, "as we get a great spacious area to work in and in return the school gets a free floor clean!"
The two day training course is designed to ensure that new franchisees:
Build confidence and competency in machine use
Learn basic floor skills
Learn Health and Safety regulations
Learn polishing and restoring shine to vinyl and other hard floor surfaces
Become familiar with using the latest equipment and products
The venue has served their needs so well in fact, that Viky is now expanding its use for other CrestClean training courses in South Auckland.
He says, "It's great to have such an ideal space to work in, as more training success = more happy customers."