Northland's Star is Shining Bright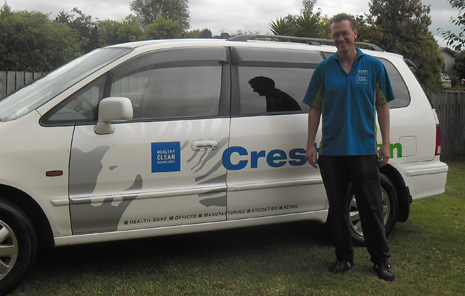 Great workers are hard to come by these days, but CrestClean doesn't have a problem finding them. Whangarei in particular is a city with many great CrestClean Franchisees, including Daniel Hood, one of the Northland regions best.
Regional Directors, Neil and Rachel Kumar felt the need to acknowledge their great team members, and in particular, mention Daniel – a valuable member of the Northern team.
Daniel has been with CrestClean for seven months and says he really enjoys his work. "I enjoy learning new skills and the hours work well for me as I have a lot of free time to spend with my kids during the day," he says.
He is originally from a farming family in Taranaki and when he was 13 his family relocated to Northland. "We have always loved Whangarei as we used to spend the Christmas holidays up here," he says.
The quieter lifestyle in Whangarei suits Daniel and his family well as they live close to everything they need and can enjoy life at a slower pace.
Eventually, Daniel says he would like to expand his franchise and start up a small team in the region.
Neil and Rachel Kumar are very pleased with Daniel. "H is one of our best franchisees," they say, "He is our Regional Trainer and has excellent customer focus. What we like about him is he thinks outside of the square and is always willing to go out of his way to help customers and other franchisees. He is doing a superb job."
Rachel and Neil have been working with CrestClean for over seven years and have seen the Whangarei region develop – bringing with it some great business opportunities.
Because of the hardworking and friendly nature of the Whangarei franchisees, such as Daniel, Rachel says that it's a pleasure to work in the region.