Get in Bed with This Great Cause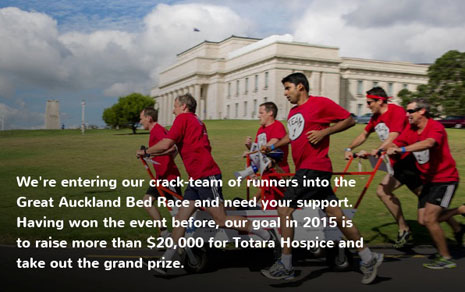 The BNI Metro business networking group are hoping to be heroes for Totara Hospice. This crack team of bed racing veterans will be dressed up as Heroes and Villians to compete in the Great Auckland Bed Race on 22 March.
In it's third year, the Great Auckland Bed Race is a novelty fundraiser in which teams choose a theme and a charity to support, then dress up in costumes and push a rolling bed through the race course on the day.
The BNI Metro team theme is Heroes and Villains – with half as the heroic All Blacks and the others as the villainous Wallabies. They're hoping to break their previous records and raise $20,000 for Totara Hospice.
Totara Hospice provides palliative care of the terminally ill, helping them and their families get the best out of their last days together. Help us support them by pledging your donation today.
Many CrestClean Regional Managers are members of BNI, which operates nationally. West Auckland Regional Manager Caroline Wedding will be out with her family wearing t-shirts and supporting the team on the day. Please take a moment to give if you can for this important charity and this great family event by clicking here to support the BNI Team.