Frankton Primary School pupils are tidy kiwis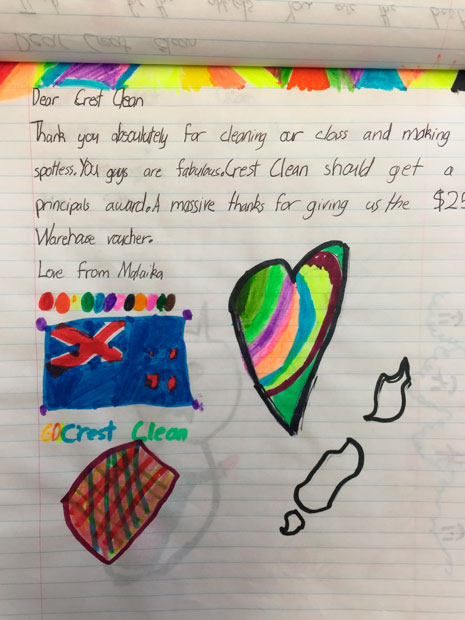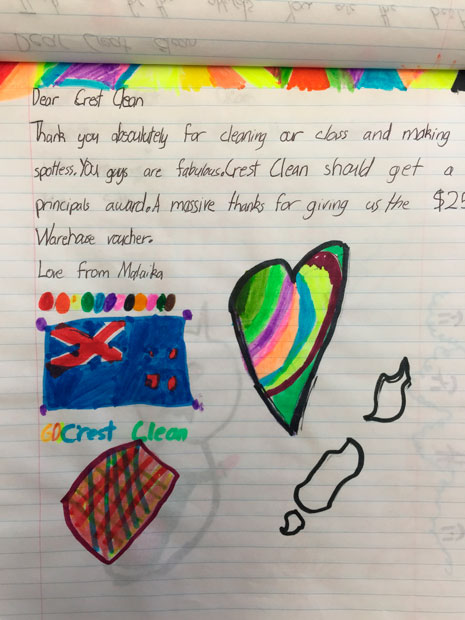 Frankton Primary School pupils enjoy keeping their classrooms tidy.
As part of CrestClean's Cleanest Classroom Competition, four out of 33 classes in the school received a $25 Warehouse voucher for keeping their classrooms clean last term.
To say 'thank you', Room 9 pupils wrote letters to Crest, thanking franchisees for cleaning their classroom and for the $25 Warehouse voucher. With the voucher Room 9 bought the board game Who am I?, two marble race games and Playdoh.
CrestClean's Cleanest Classroom competitions are held at many of the 262 schools that are cleaned by Crest franchisees. The classroom that is kept the cleanest in the school is awarded a certificate and a prize at the end of the term.
Hamilton Regional Manager Nivitesh Kumar says it was nice of Room 9 pupils to write and illustrate letters.
"The kids really appreciated the voucher and it was a surprise to receive them. The initiative is a win-win. We are promoting hygiene in the school and pupils are encouraged to keep their classroom clean. It is a great initiative," he says.
Congratulations Room 9 for all of your hard work, we hope you enjoyed your prize!