Kids' heartfelt message to cleaners
CrestClean's Rozelyn Maharaj has been bowled over by a card from 20 youngsters at a Dunedin school after she went the extra mile when a classroom was left in a mess.
Their collective message brought Rozelyn to tears after she discovered a giant "sorry" card had been left for her the next day.
The Bradford School youngsters wanted to apologise for their untidiness, so they sat down en masse to write a card for Rozelyn and her son Nitij.
The card contained 20 individually-written notes to "Ms Cleaner", expressing in words and colourful drawings their deep remorse for not tidying up and promising that it wouldn't happen again.
The messages tugged on the heartstrings for Rozelyn. "Each of them said sorry, I was so pleased with them for what they did," she says. "I had tears in my eyes when I saw the card. It was totally unexpected.
"They were saying 'Ms Cleaner, I'm so sorry for the mess we left'."
The day before, Rozelyn had arrived for work to find Room 5 in need of extra attention. "The tables were untidy and they all had stuff on them," she says.
"There were clothes on the floor and the chairs hadn't been stacked up."
She had to clear the tables before she could begin wiping them down. The floor needed extra work to remove grass and sand from the carpet, she says.
The situation arose as the children had a guest teacher (reliever) in there for the afternoon and the children hadn't tidied the class as they usually would have.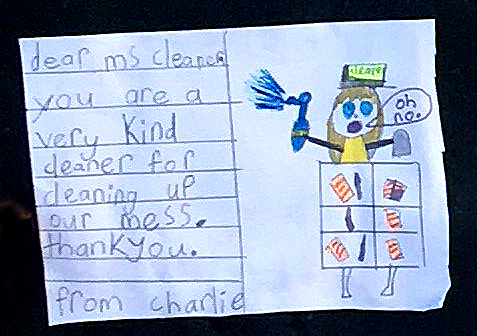 "The teacher said to me 'sorry the classroom is pretty messy, the kids didn't do what they were told to do'," says Rozelyn.
The extra work added half an hour on her day to get everything looking spick and span again.
School Principal Melissa Mitchell-Bain says pupils are taught the values around taking pride in their environment.
She says Rozelyn and Nitij do a great job. "They put in a big effort to keeping the school looking great and take pride in the work they do.
"When you have a team that does a good job of the cleaning the kids naturally take pride in it as well.
"We have quite a focus on keeping the classes tidy, not just for the cleaner, but for the kids themselves to be working in."
She says the "sorry" card from Room 5 to the cleaners was a result of a discussion with the children.
"The teacher has had a chat with them about how the room was left that day and then they've thought about the implications it has on Rozelyn who comes to clean."
Tony Kramers, CrestClean's Dunedin Regional Manager, says he was floored when he heard about card gesture.
"I've never heard of this happening before. It's one out of the box for us.
"Cleaning can be a thankless job at times for our teams, so to get direct appreciation from the customers that they are doing a great job goes a long way."
Rozelyn has kept the card she and Nitij received – it makes her feel proud, she says. "I've shown to it my family and friends, I was so excited to receive it."