Couple overjoyed as business paves way to buying first home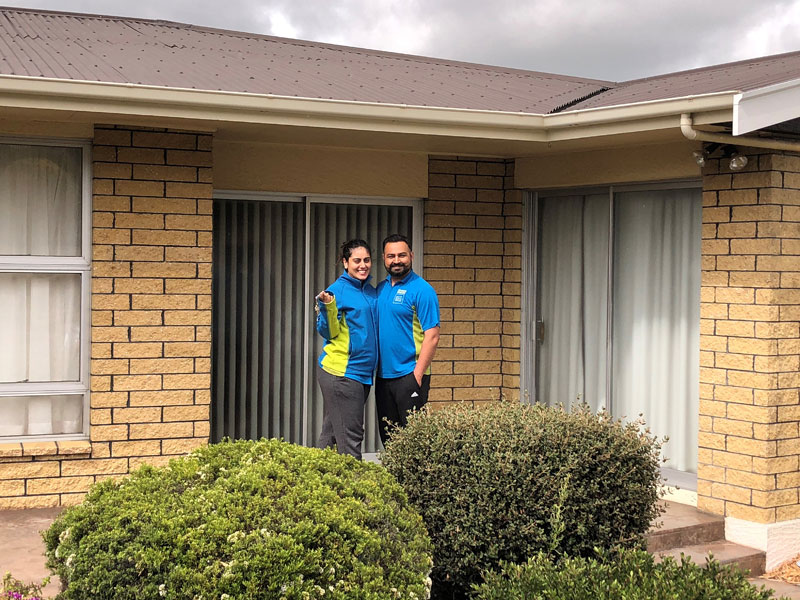 Getting the keys to a place they can finally call home was a joy-filled moment for Randeep Singh and Kiran Kaur.
The Timaru couple have joined hundreds of other CrestClean franchisees whose business has brought them financial freedom and the ability to become home owners.
Randeep says taking possession of the three-bedroom property in Timaru was a day to treasure. "I cannot find the words to explain how it felt. We were so happy to move in."
The couple have experienced a remarkable change of fortune since they joined CrestClean. They have worked tirelessly on their business, increasing the number of customers and tripling their turnover.
Before taking the first step to becoming CrestClean franchisees, Randeep spent long days on a production line at a local freezing works. He would be out of the door by 4.30am for the long 12-hour shifts at the plant.
With Kiran juggling two jobs, working at Subway in the day and nightshifts at McDonald's, it meant they had precious little time together.
Randeep says buying a cleaning business fulfilled his dream of being able to be his own boss and set them on the track of one day being able to buy their first home.
"Getting a home loan would not have been possible before I had my CrestClean business," he says. "The loan was approved very quickly."
To celebrate being homeowners, Randeep and Kiran had a big house warming party, which included a traditional Sikh blessing of the 1970s renovated property. More than 150 friends and family were on hand to help the couple celebrate.
Joining in the celebrations was CrestClean's South Canterbury Regional Master Franchisee Robert Glenie.
"Some weeks ago Kiran said to me 'why can't we find a home to buy?'," says Robert, who used to work in the building industry before he joined CrestClean.
Keen to help Randeep and Kiran find the best home within their budget, Robert offered to run his eye over properties on the couple's list.
"I was privileged to be asked to help Randeep and Kiran with the process of buying their first home in New Zealand.
"Randeep would ring me and asked if I could look at a house with them and see what I thought," he says.
"I feel so proud to see Randeep and Kiran in their own home. They have worked so hard to build a great business and now they are reaping the rewards."