Company's financial controller marks 15 years at CrestClean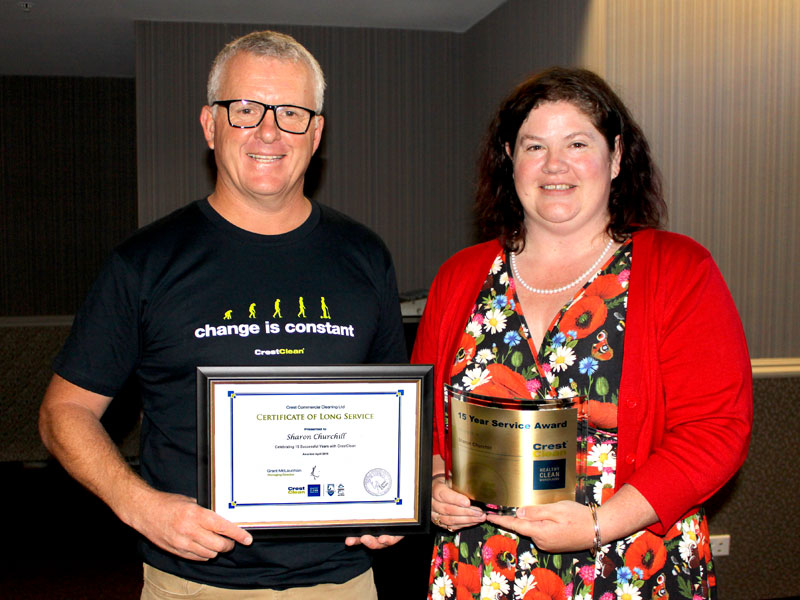 CrestClean's managing director had high praise for his financial controller Sharon Churchill when he presented her with an award to mark 15 years' service with the company.
"She gives the directors a whole lot of confidence in the financial well-being of the organisation," said Grant McLauchlan.
Sharon's long association with Grant began way back in 1994 when she started as an office junior at G S McLauchlan & Co in Dunedin. The chartered accountancy firm, which had been established by his father, was run by Grant and his two brothers.
Two years later, when Grant established CrestClean, it was Sharon he turned to for help. She was tasked with setting up a computer system to manage payments to franchisees and customer invoicing.
CrestClean's rapid growth saw the company take on more head office personnel and Sharon's role and responsibilities changed, she says.
"I started doing more accounting work, and some of this Crest work was then passed on to other employees with two main staff members employed to run the day-to-day office work of Crest, while the franchisee pays stayed with me."
In 2002 Sharon took a break and left GSM after 8 ½ years, having worked for CrestClean for 6 ½ of those years, "to try something else". She found a job as sole-charge office manager. But within two years she was back at CrestClean after her former boss got in touch seeking her help to solve a big problem.
"I received a phone call from Grant asking if I could come and help him with some work at Crest," says Sharon. "They had been trying to implement a software system that would process the franchisee pays as well as the customer invoicing – but they were not having much luck.
"I was happy to come in and help and ended up processing the franchisee pays manually beside the system they were trying to set up.
"By this time, CrestClean had grown quite considerably and I remember working until 4am some days trying to get the franchisee pays completed in time for pay days."
Grant says Sharon's problem-solving skills helped save the day. "She kept a cool head and steadied the ship at that point. She's very innovative, always willing to help and always keen to adopt new technology."
Sharon says returning to CrestClean was rewarding. "Within six months I had gone from working part-time at CrestClean to being a full-time employee and I was very happy to be working with Grant and a small team of others.
"There were a few changes in staff at the beginning but we soon had an established team of six employees in the head office. This has now grown to 17 employees, so I have seen a lot of growth over my 15 years with CrestClean."
Grant says Sharon's played a pivotal role in the company's success. "It's been fantastic to watch her develop over the years, not only in a professional capacity but as a person where she's now a financial controller for a very well respected business in New Zealand."
When she's not working Sharon likes to kick back with dancing and music. "As far as personal interests go, I quite like to throw on my cowboy boots and hat for some good old line dancing," she says.
"I also play a number of musical instruments including piano, saxophone, clarinet and ukulele."