Alan goes out of his way to ensure customers get a superior service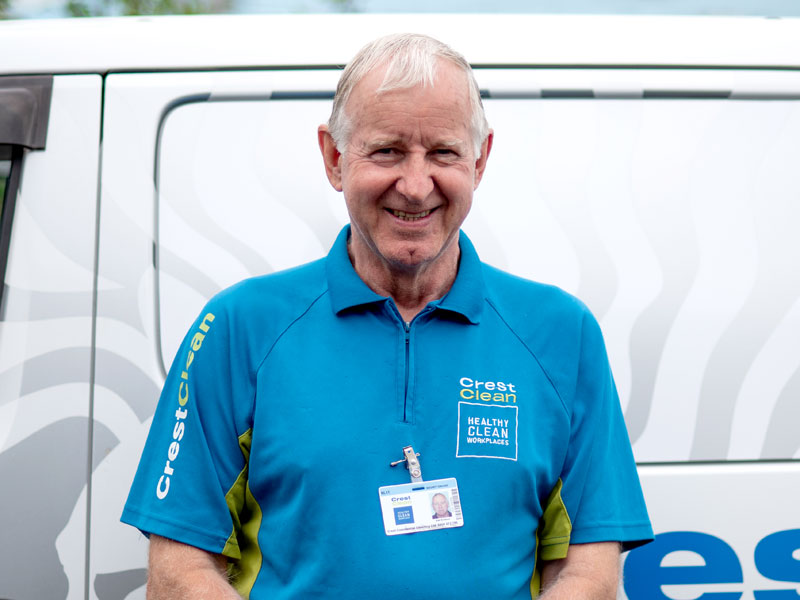 His customers are quick to pass on their praises after experiencing the high level of service he prides himself on delivering.
CrestClean's Nelson Regional Manager Barbara de Vries says she frequently receives great feedback about the work carried out by Alan Erickson and his team.
"Alan's customers really like him as he's very proactive and responsive to their needs," adds Barbara. "No job is too big or too small and Alan goes out of his way to keep everyone happy and to build good customer relations."
Alan, who runs the largest CrestClean franchise in Nelson, joined CrestClean after many years working for himself. He has extensive experience across a diverse range of industries.
He has a background in farming, including sheep, beef and deer. He was also involved in sphagnum farming, with exports to Japan, Taiwan and America. He's also been a motellier and owned a successful dry cleaning business in Nelson.
"You name it and I've probably done it. I've tried many different things," he says with a laugh.
Since joining CrestClean five years ago Alan has worked hard to expand the business, taking on extra help as his customer base grew. He has several part-time employees and his daughter Kyla is also a key part of the business.
Alan says while there's no one single component to running a successful business, having employees who are experienced and enjoy what they are doing is essential.
"You have to look after them. If they are happy in their work they will do a good job. We all have a good rapport and we work well together as a team."
Alan says thanks to CrestClean, there's been a shift in people's attitude to cleaning. "I like the fact that CrestClean has helped to raise the status of cleaners."
CrestClean is the largest trainer of cleaning personnel in New Zealand and each year it hosts more than 200 training events for personnel nationwide through Master Cleaners Training Institute.
"Cleaning is a very important part of any business and a lot of businesses are now beginning to realise that. A lot more people are respecting the cleaners for the important job they do in providing a highly-professional service by well-trained people."
Although in his sixties, Alan has no immediate plans to retire and says cleaning helps to maintain his fitness.
"It certainly keeps you active and fit. Cleaning is quite physical work and if you go for seven and a half hours cleaning a night you'll soon find how physical it is. You're moving all the time, and that's a good thing!"