Ute proves to be a good advert for his CrestClean business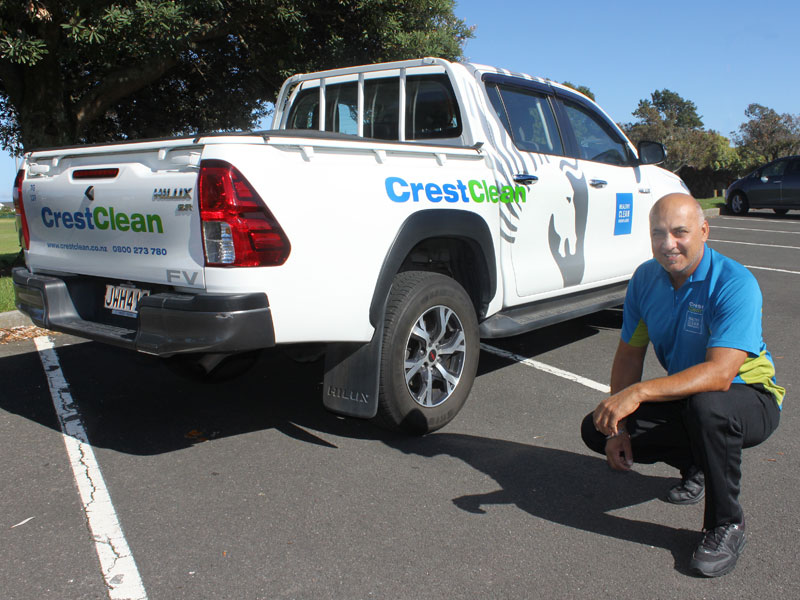 It's turning heads in Te Puke and acting as a mobile billboard for his CrestClean business.
Rajinder Chauhan is over the moon with his Hilux ute, which he says frequently becomes a conversation opener with passers-by.
Whether he is parked at Te Puke High School doing the cleaning or out and about in the Bay of Plenty, his vehicle gets a lot of positive comments.
"People often stop to admire the truck and then the conversation naturally turns to talking about CrestClean," says Rajinder. "It's all positive and a good advert for my business."
He says it's helping to dispel the image that cleaning is a lowly job. "People can see I'm a business owner not just a cleaner."
Following a recent chat Rajinder had with a bystander, the man was so keen to learn more about the company that he got in touch with CrestClean's Tauranga Regional Manager Jan Lichtwark. He's now on track to buying a cleaning franchise.  
Rajinder, who has a day job as a transport contractor, joined CrestClean last year and says the additional income is a big bonus. "I like being my own boss and I enjoy the work. It's flexible in terms of the hours you work."
Jan says Rajinder is enthusiastic about his business and is focused on doing a great job for his customers. "He works hard and is keen to do the best job he can."