COVID-19 testing centre cleaners praised for doing a 'fantastic' job
CrestClean personnel who have been working at Invercargill's COVID-19 testing centre have been thanked for doing a "fantastic job".
A cleaning team has been going in at the end of each day to ensure the building is thoroughly cleansed, says CrestClean's Invercargill Regional Manager Glenn Cockroft.
"CrestClean was called upon to provide a daily sanitisation of the testing area to ensure that those being tested and also the staff members involved were kept safe in a totally sanitised environment."
Cilla Tauroa, of Wellsouth Primary Health Network, says the CrestClean teams have been providing a great service.
"They are doing a fantastic job. They have been so accommodating and working around us."
It means medical staff at the centre can have the peace of mind everything is clean when they start work, she added.
"We can come in first thing in the morning and everything is all clean and we know they've done a thorough job. It's great."
A large poster was displayed at the centre as a thank you to the cleaners from WellSouth staff. The message said: "We appreciate you keeping our workplace sparkly clean."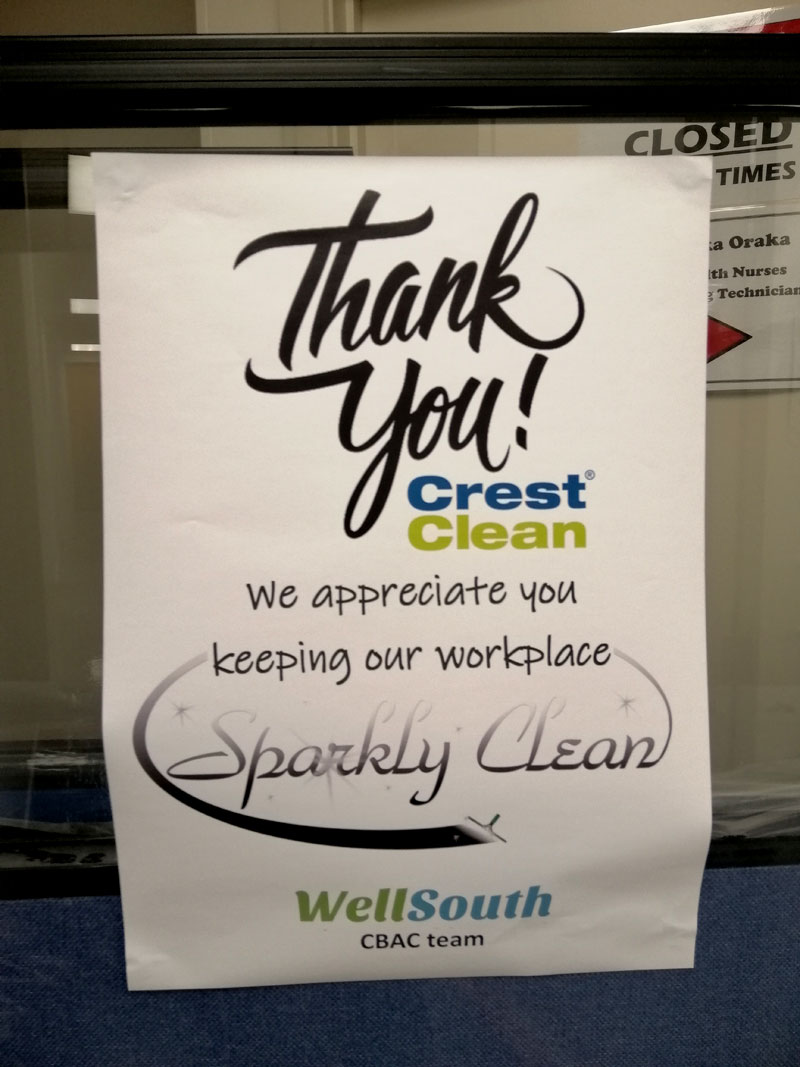 CrestClean team members carrying out the sanitising were well prepared for the specialist work. Each attended a special training session delivered by Master Cleaners Training Institute.
The seminar had a strong health and safety component. It included a section showing how to correctly put on and safely remove the personal protective equipment (PPE) needed to carry out a full pandemic sanitisation clean.
Glenn says there was a lot of organising involved before the CrestClean teams could begin their work at the COVID-19 testing centre.
"They carefully follow the process that was put in place. Each night two team members don the appropriate personal protective equipment and enter the Invercargill testing centre."
A thorough clean down of all surfaces is carried out utilising CrestClean's Anti-Viral Sanitiser and Hyperclean.
"We make sure that every surface throughout the facility, including waiting area, hallways and testing rooms, are all thoroughly sanitised to ensure that all of the staff at the centre and of course those being tested each day are safe."
Glenn says he is extremely proud of the team involved in the sanitising work.
"There has been great feedback from the customer, including a special sign that had been made and left on the door for them."