Business is busy but couple find there's still plenty of family time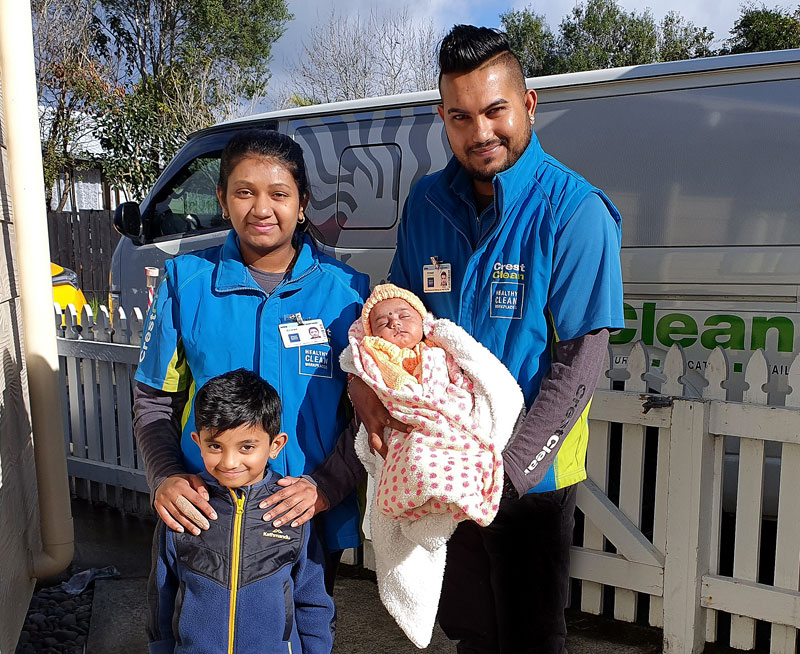 Young dad Amit Singh says becoming his own boss through owning a cleaning franchise is one of the best decisions he's made.
Amit, who used to work as a spot welder before joining CrestClean, says the success of his business meant he and his wife Romita Rana Roy were soon able to get onto Auckland's property ladder.
Since joining the company five years ago, Amit and Romita have bought a home of their own in Henderson, no mean achievement in Auckland where property prices are among the highest in New Zealand.
The couple say it's through owning a CrestClean business, with a regular and guaranteed income, that had put them in a strong financial position to become homeowners.
Over the past few years they have gradually expanded their business by taking on more contracts and by offering customers a wider range of cleaning options.
But despite being busier than ever, they still manage to enjoy plenty of family time together with 5-year-old son Amirav and new baby daughter Amaira, who was born just two months ago.
"We now have two kids and we want to spend as much time as we can with them," says Romita. "You can be a mum and also enjoy having your own business. It's really good for us."
Help from immediate family means Amit's parents look after the children at times when Amit and Romita are cleaning together.
Before joining CrestClean, Amit worked as a spot welder for an Auckland company that manufactures fireplaces. He remembers the job could be tough and physically demanding.
"You have to stand up all day and there was a bit of heavy lifting, it was quite a hard job," he says. "I was there for four years."
Amit says cleaning is a lot easier than his previous job and he's now not tied to the rigours of fixed start and finish times. CrestClean business owners have a lot of flexibility in terms of when they carry out the work.
"It's really good and the work means we get more opportunities to be with each other. It's fun spending our time together when we are working," he says.
Caroline Wedding, CrestClean's Auckland West Regional Manager, says Amit and Romita are hardworking and do an outstanding job for their customers.
"Amit is really committed to the job and can pretty much turn his hand to anything. They have a lovely young family and deserve every success."