Couple celebrate 15 successful years running their CrestClean business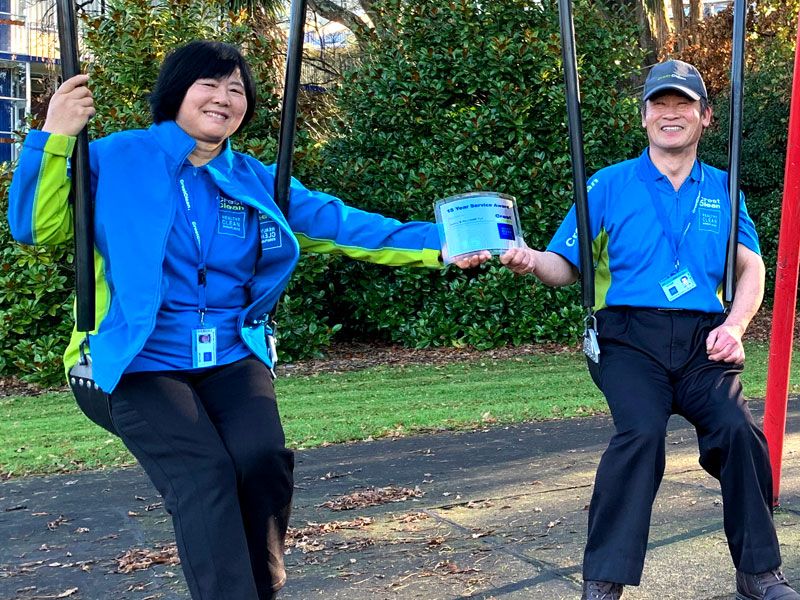 After moving to New Zealand, electronics engineer James Yun soon realised it would be almost impossible to carry on working in the same profession.
"It was too difficult to get a job because there were no electronics factories here," he says, recalling what it was like after arriving from Korea.
"So I decided to be a franchisee and have my own business. It's the perfect job for me to enjoy a carefree lifestyle," he says of the decision he and his wife Sarah made to join CrestClean.
Now 15 years later he says he still gets a real buzz from providing a quality service for his customers, some of whom he's looked after for more than a decade. "I feel a sense of accomplishment with the responsibility of ensuring my customers are satisfied with our work."
One of James and Sarah's longstanding customers is the New Zealand Nurses Organisation.
Jenny McCullum paid a heartfelt tribute to the couple's dedication to the organisation over many years.
"James and Sarah have been the cleaners, working behind the scenes, for the NZNO Dunedin Office since we moved into John Wickliffe House in October 2010.
"They always do a fantastic job of cleaning our offices, which results in only positive feedback from staff working there. During the Covid crisis we have increased our cleaning routine to daily.
"We thank them both for taking on this extra work at a time that is both stressful and busy for them. NZNO Dunedin staff congratulate James and Sarah on their 15 years of operating a CrestClean franchise and wish them well for the future."
CrestClean's Dunedin Regional Manager Nicky Kramers is not surprised by the many accolades she receives about the couple's work and the quality of their cleaning.
"They are both absolutely lovely and their fellow CrestClean franchisees and customers love them and appreciate the hard work they put in to operating and owning their business.
"It's an outstanding achievement to reach 15 years and is testament to their hard work in running such a successful business."