Busy first-time dad still gets to enjoy plenty of family time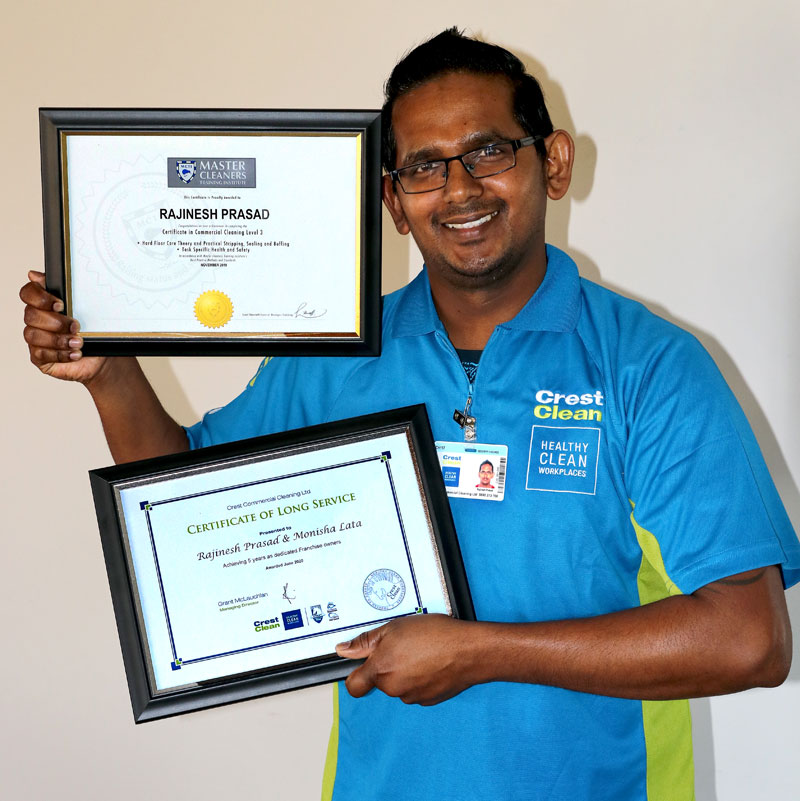 Having a job that keeps him active is a real bonus, says CrestClean business owner Rajinesh Prasad.
After five years with the company, Rajinesh is as enthusiastic as ever about having his own business. "It's physical work and it keeps me active and I really like cleaning, so I'm very lucky," says the former Pak'nSave butchery department worker.
"The time goes really fast, especially when I'm working in the evenings. I have a lot of sites to cover so I'm constantly on the move but it isn't a problem because I like being busy."
But running a successful cleaning franchise still leaves time for the family, says Rajinesh, especially important now that he and his wife Monisha Lata recently became first-time parents.
"At the moment my wife is staying home with the baby but we still manage to have a lot of time together," he says.
As well as managing his business, Rajinesh also enjoys passing on his extensive knowledge to newcomers who've recently joined CrestClean. In his role as an Induction Trainer for Master Cleaners Training Institute he shares tips he's learnt over the past five years.
"It feels good to help people. I tell them it's not hard. If they concentrate on doing a good job for the customers then they'll do okay."
Yasa Panagoda, CrestClean's Christchurch North Regional Manager, says Rajinesh is an outstanding franchisee. "He always delivers great quality work and he knows how to keep his customers happy."