Feedback brings another accolade for Hawke's Bay's queen of quality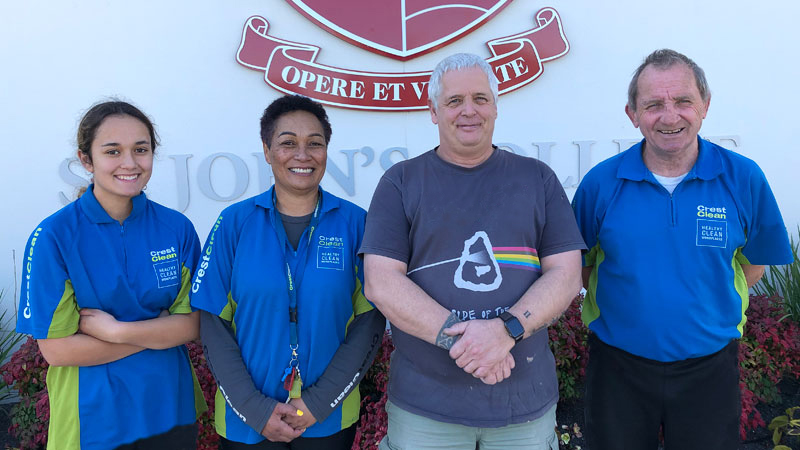 She's the queen of quality with a stack of accolades as testament to the high standards she prides herself on delivering.
Sophie Chase has just picked up another Certificate of Excellence, the third such award this year and making a grand total of 14 since she joined CrestClean.
The latest award follows glowing praise about the quality of the cleaning at St John's College, Hastings. Caretaker Dudley Mendenhall says he's over the moon with what has been achieved.
"To say that I am happy with their work is an understatement to say the least," he says, referring to the family cleaning franchise of Sophie, her husband Terry (Fly) Wilson and daughter Brianna Barrett-Chase.
Dudley says he was amazed at the difference the team had made to tired looking floors and he wanted to acknowledge the expertise of the CrestClean personnel involved.
"I wish to add that Fly has set the bar, and it's a very high bar that has been set. I am talking about the floors.
"These floors in the school are aged and have been dull for some time now. I am an ex-serving member of the British Army and know what standards are.
"Fly has done a phenomenal job and should any Ministry of Education inspector wish to check if the school is clean enough for the wellbeing of the children, then I am confident that one look at the floors will tell them what they need to know."
He finished by praising the whole team: "I am grateful of the effort they have done. A big thank you," he says.
It's really rewarding when everyone is really happy with the job. We were quite blown away with what we achieved. My team have been outstanding.
During the COVID-19 lockdown Sophie and her team were called in to carry out an extensive deep clean of the college. With students and staff away and the building not in use, the cleaning team could focus on restoring floors that had seen better days.
Sophie says working during the lockdown was a chance to make a big difference. "We had the time on our hands to make the floors look great.
"They'd never had polish on them before. We decided to do our best and go above and beyond what was required. Everything looked really awesome by the time we finished.
"It's really rewarding when everyone is really happy with the job. We were quite blown away with what we achieved. My team have been outstanding," says Sophie, who has recently stepped up to help train new franchise teams in Hawke's Bay.
Sophie has been appointed as an Induction Trainer with Master Cleaners Training Institute. Induction training is a key part of the CrestClean franchisee training process. New franchisees work alongside Sophie for several weeks, learning effective and efficient cleaning before they begin their formal training.
Tim O'Leary, CrestClean's Hawke's Bay Regional Manager, says Sophie's exacting standards are inspiring and she leads by example.
"She takes a personal pride in all her contracts and sets the bar really high. She is a real asset to the Hawke's Bay team."