Spacious Nissan gives Daniel the capacity to expand his business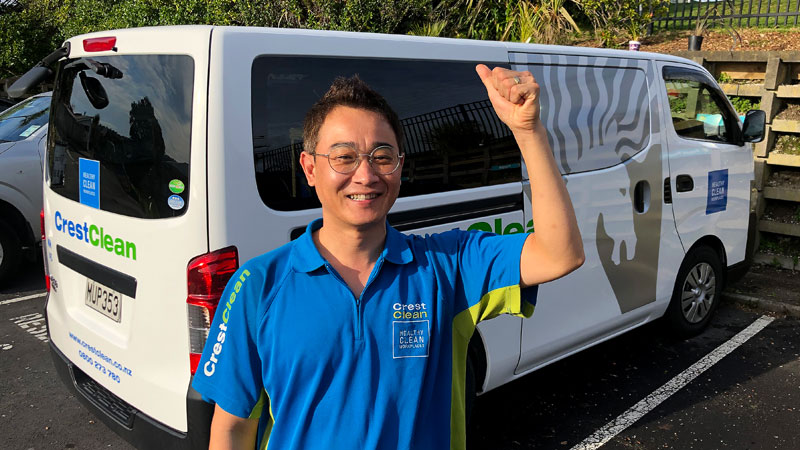 It's no wonder Daniel Park is over the moon with his spacious new vehicle.
With his business growing and a lot more equipment to carry, Daniel knew it was time to say goodbye to the small Nissan van that had served him so well but was just too small for all his gear.
Now the North Harbour business owner couldn't be happier with the 2-year-old Nissan NV350 he recently picked up.
"It is really spacious and it means I can now easily carry all my equipment, including my carpet cleaning machine," he says.
Like the pride he takes in his business, Daniel is fastidious about keeping the new vehicle looking clean and shiny. "I clean it every week or sometimes more often if the weather is bad and it starts getting a bit dirty," he says.
He's noticed the new vehicle is turning heads when he's out and about. "People often stop to tell me they like my van," he says.
"I think the customers are really happy when they see you with a nice clean van. It shows them you are serious about your business and what you do."
Neil Kumar, CrestClean's North Harbour Regional Manager, says Daniel has worked hard and is focused on going the extra mile for his customers.
"He's an amazing franchisee who looks after his customers really well. He's a person who always has a smile on his face and is passionate about his business."
Daniel moved to New Zealand 11 years ago from South Korea and settled in Kerikeri in the Bay of Islands. He initially owned a Japanese restaurant but later decided to move to Auckland and join CrestClean
He says running his own cleaning business is incredibly rewarding. "I like to do my best and keep my customers happy. When they're happy I'm happy!"