Whanganui customers love his 'can do' attitude and cheerful manner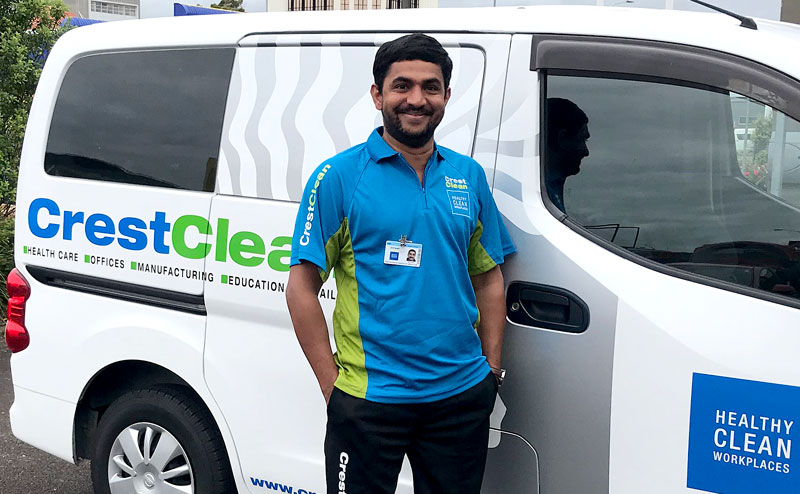 It's no wonder there's a growing demand for his cleaning services. He not only delivers quality work, it's his cheerful manner and 'can do' attitude that's also winning over Whanganui customers
CrestClean's Seby Joseph says he's never been happier at work and just loves looking after his customers and doing the best job he can for them.
And it's not just the customers who are singing Seby's praises. His boss Shareen Raj is convinced if there was ever an award for the smiliest cleaner, then Seby would undoubtedly be the front runner.
"He does such a fantastic job and the customers love him. I always get great feedback about Seby," says Shareen, CrestClean's Palmerston North/Kapiti Coast Regional Manager.
"He is always smiling and people can't fail to notice it. He just has a really smiley face. Seeing a happy cleaner goes a long way with customers and he really genuinely enjoys what he does."
Shareen says a good reputation speaks volumes and a number of new customers have been acquired through word of mouth after hearing about CrestClean's quality. "The customers say he's very detailed in how he carries out the cleaning and takes pride in everything he does."
Seby was the first CrestClean business owner to work in Whanganui. Previously he worked as a production supervisor at a food manufacturing company in Auckland. He'd done a lot of research before joining CrestClean two years ago.
"I asked many of my friends and people said go with CrestClean as they are the best company. That's proved to be right," he says.
"I enjoy the work and the hours are quite flexible and you know you are in a secure industry with a guaranteed income."
Seby and his wife have four children and say they enjoy the benefits of living in a smaller centre where living costs are substantially cheaper. "Whanganui has good schools and it's very nice to live here. It's a very peaceful city and safe and we enjoy it," he says.
The couple are excited about becoming homeowners later this year when they moved into a brand new four-bedroom home. "Having a CrestClean business helped us to be able to get a mortgage," says Seby. "It's a very good feeling as we couldn't have afforded a house in Auckland."