From part-time rest home carer to successful business owner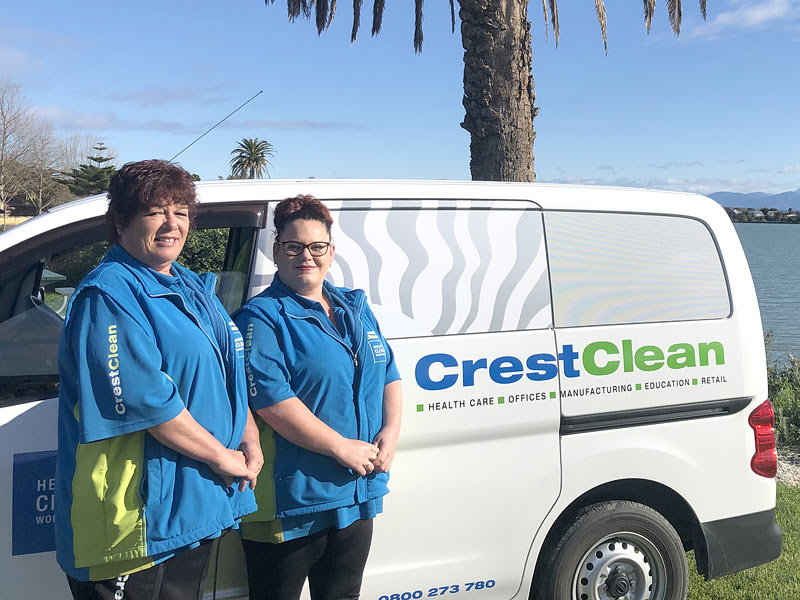 As a carer in a rest home, single mum Mel Fearn knew in her heart that to get ahead in life something would have to change.
"I thought 'I don't want to be working part-time as a single mum, I want to be doing something better'," she says, recalling the events leading up to her joining CrestClean 11 years ago.
She had friends who owned a successful CrestClean business, and they suggested she could do the same and build a secure for herself. "So to buy the business was a really big achievement for me," says Mel.
When she purchased a franchise at the age of 22 she became CrestClean's youngest business owner.
And the decision paved the way to success.
With plenty of extra cleaning work available in Nelson, Mel soon seized the opportunity to expand her business by taking on more contracts. As she became busier her mum Robyn pitched in to lend a hand with the work.
"Mum decided that she wanted to come in as well so she and I worked together for six months then she came on as a business partner," says Mel.
When the pair grew the business again one of Mel's sisters joined the family cleaning team.
In 2013 Mel's commitment to her business and her industry experience was recognised when she was offered the opportunity to be involved in training CrestClean's newcomers.
She became an Induction Trainer for CrestClean's Nelson Region. New franchisees work alongside Mel for three weeks learning effective and efficient cleaning techniques before they begin their formal training through Master Cleaners Training Institute. Mel is now an Assessor for the organisation.
Training others is not only rewarding, it's a chance to give something back, she says. "I get a real sense of achievement by helping other people succeed in their businesses and sharing my experiences I've had over the years."
She says it takes time for some people to change their mindset and realise that owning a CrestClean franchise means they are their own boss.
"You can see sometimes it doesn't come straight away. The penny doesn't drop until I stop and do a site visit with them and they are like 'this is great, it's exactly like we thought it would be. It's cool'. It's quite a surreal moment when the penny drops like that.
"A lot of people we get have been an employee their whole life and this is the first business they have owned. You see them feeling good about what they are doing and that they own it and are not working for anybody else."
Nelson is an area featured in CrestClean's Move to the Regions Programme. The programme offers $3,000 towards relocation costs for anyone relocating to Nelson or Blenheim to purchase a cleaning franchise.
You will be provided with local training and a full induction to your business, and then guided through growing the business to become a successful CrestClean franchise owner. We have immediate start opportunities available in Nelson now.
Like other areas that feature in the programme, Nelson offers many advantages in terms of lifestyle and cheaper living costs than other parts of New Zealand.
"Nelson is a great place and it's a bit more relaxed, slower paced, compared to the bigger centres like Auckland, Wellington and Christchurch," says Mel.
"We have pretty much everything here, and Nelson is just over four hours from Christchurch and central to all the main tourist activities.
"The beaches are great and it's a very family orientated place. Nelson is a wonderful place to bring up kids and the schools are very good."
Barbara de Vries, CrestClean's Nelson Regional Manager, says Mel and Robyn have proved that cleaning can be a rewarding profession and offers a good career path. "Mel has gone into training and she is a role model for our new franchisees."
Cleaning is one of the most secure businesses to be in, says Barbara, and Nelson has many opportunities. All buildings need cleaning, and there's much potential for growth.
"Even though there has been a downturn in the economy due to COVID-19 pandemic, CrestClean has been busy with more customers coming on board.
"With a new emphasis on health and hygiene in the workplace, there is a greater than ever need for skilled cleaning professionals," she says.