Annual team meetings enjoyed by CrestClean franchisees
The importance of working together has been highlighted at CrestClean's annual team meetings, which drew large groups of CrestClean business owners to a business forum.
The events, hosted in 17 regions all around New Zealand, mark a stellar year for CrestClean business owners. The team meetings gave managing director Grant McLauchlan a chance to update franchisees on company progress in the last 12 months.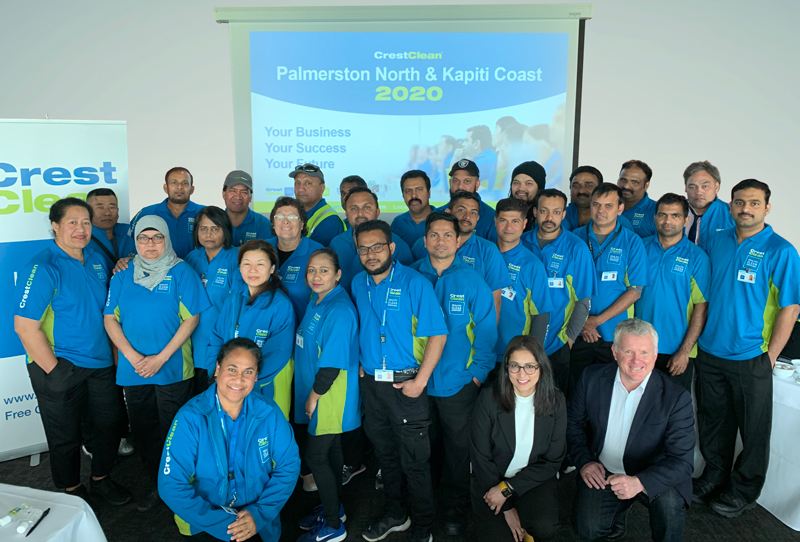 "We're part way through our tour," said McLauchlan.
"We started in Invercargill, and we're moving up through the country, and after a break due to the level 2 situation, we've resumed and we are having great turnouts of our hard working franchise owners in each local region."
As well as a get together, the annual gatherings are a chance for the company's managing director to personally pay tribute to many long serving CrestClean business owners.
McLauchlan thanked CrestClean's franchise owners for their commitment to the brand and said the company was in great shape.
"Our foundation is really rock solid and we have the right people, the right systems in place and we are seeing growth accelerate throughout New Zealand."
He said CrestClean's personnel represented 58 different nations.
"It's our diversity that helps to give strength to our brand and our business in the marketplace."
Long service recipients included personnel who received awards for three, five, seven, 10 and 15 years.
In Christchurch, franchisee Grant Holland was presented a special award for celebrating 20 years as a CrestClean business owner.
An Auckland event, to be hosted at Alexandra Park, will take place in December.
"We are expecting this to be the biggest ever gathering of CrestClean personnel when 380 business owners from the Auckland region come together. It's a great buzz to see all our people at a business forum, we have a really positive culture at CrestClean, and we consider ourselves lucky to be involved in what has now transpired to be an 'essential service' industry."