Franchisees share festive fare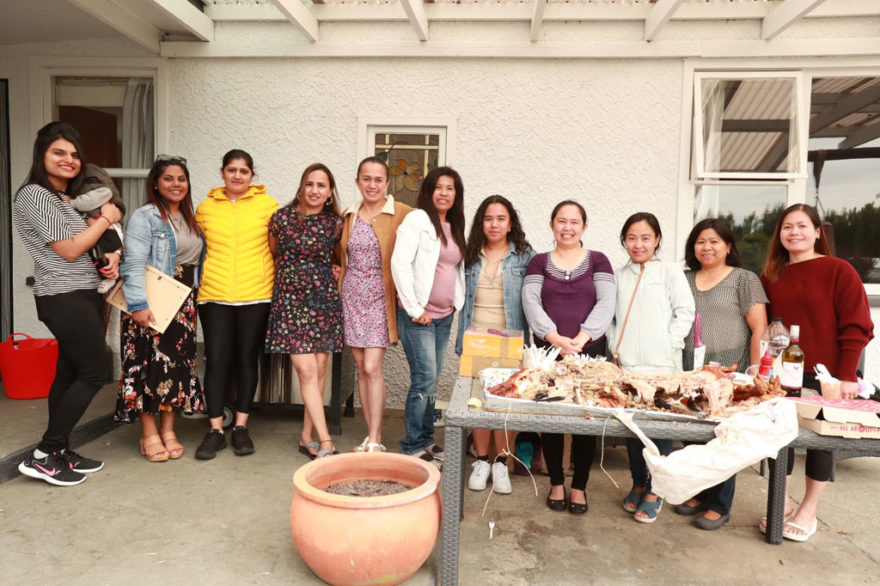 When CrestClean's Canterbury franchisees insisted on bringing a plate to their Christmas party Regional Manager Robert Glenie was in for a surprise.
"This truck pulls up and out comes a whole pig that has been cooked on a spit!" says Robert.
"I had supplied food and drinks, but all the teams came with plates of food because they wanted each other to try their specialties. There was more food than people."
The fare wasn't the only surprise — after two weeks of constant rain, the sun came out for the event, which was held at Robert's lifestyle block.
"There was badminton and basketball set up, but the kids seemed to spend more time chasing my little dog Patches around the section."
Successes were celebrated, with Franchisee of the Year awards given to teams from Mid and South Canterbury, and several franchisees receiving certificates for growing their businesses to over $100,000.
"This shows the large growth in the region," says Robert.
Franchisee of the Year for Mid Canterbury was awarded to Divianth (Ann) Mario from Ashburton, and for South Canterbury, Anju and Sandeep Kumar.
Both franchisees have grown their businesses from $60,000 to $150,000 over the past two years taking on challenging cleaning contracts which they have turned around, resulting in satisfied, happy customers.
Ann, who shares the workload with her husband Leo, their two daughters, and one other staff member, has worked really hard at both growing her franchise and being good at what she does, says Robert.
"Ann has taken on two very large contracts and her level of cleaning has been superb. She is learning the ropes of running a large business and I am helping with training and management skills."
Anju is another success story. Unable to speak any English when she started with CrestClean as a cleaner, she worked hard to learn the language before taking on her own franchise. As her business grew, husband Sandeep gave up his job to join her.
The pair are particularly good at customer service, says Robert.
"I tell all my franchisees to speak with customers once a month and get to know them. They are brilliant at building a rapport with their customers. They took on a school I was having a lot of trouble with and ended up getting invited to a Christmas morning tea at the school."
Robert says, with such fantastic and hardworking teams in the region, choosing the award winners was no easy task. "They could all have won it!"