Newlywed reunited with wedding ring thanks to CrestClean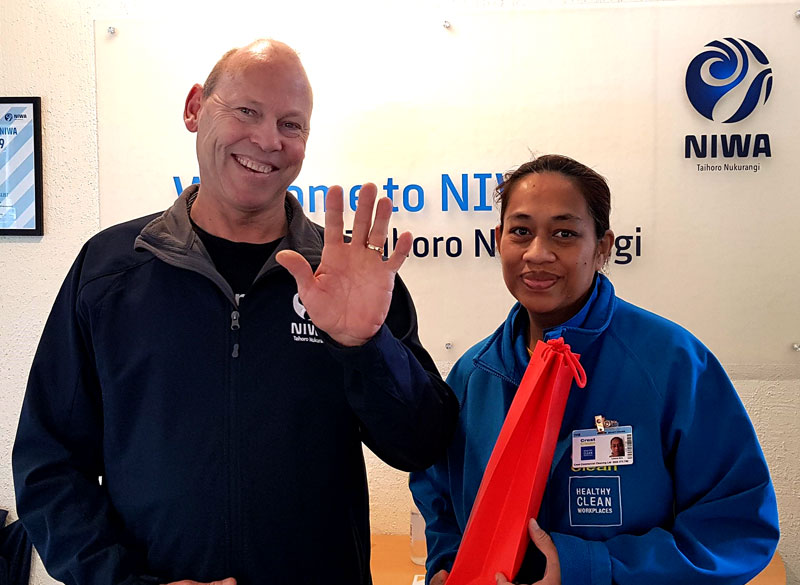 Newlywed Neill Barr had only been married two months when he lost his wedding ring.
So, when CrestClean's Lumanai Panapa found the ring and handed it in to reception, he was so ecstatic that he presented her with a gift to say thanks.
Lumanai was emptying a bathroom rubbish bin at NIWA in Wellington, where Neill is a Principal Technician, when she came across the ring.
"I picked up the paper towels with my hands because there weren't very many and I felt something hard, and then I saw it was a ring — someone's wedding ring," she says.
Wanting to keep it safe, she tucked it inside a book behind the reception desk and left a note for staff to check the book when they returned to work in the morning.
"I feel very, very grateful to Lumanai for finding the ring and handing it in," says Neill.
The ring was very special to Neill as he and his partner Dinangsih, who is in Indonedsia, had married online via a Zoom meeting, with plans to cement their vows in person once she arrives in New Zealand.
The couple met in East Timor when Neill was working there, with Dinangsih applying for a Residency Visa at the end of 2019. However, due to immigration delays and then Covid, she is yet to join him.
"This was an important symbolic ring for us. I felt gutted about losing it," says Neill.
"The ring was a bit loose so now I just keep it close to me, but I don't wear it."
Lumanai says the wedding ring is the most unusual item she has found while cleaning.
"I was really surprised; it was so unexpected!"