Plain sailing for historic vessel after CrestClean answers cleaning SOS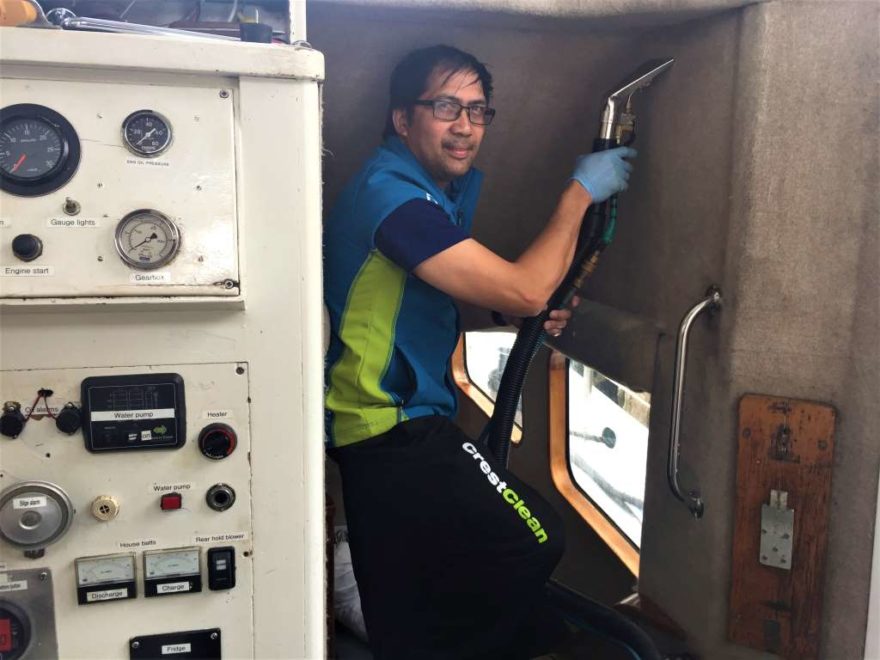 It was all hands below deck when Invercargill Regional Manager Glenn Cockroft received an SOS from Paul Mitchell, one of the directors of Fiordland Charters.
The MV Pembroke, an 18m luxury charter boat that operates in remote Fiordland, was docked in Bluff and was in urgent need of a carpet clean.
The 12-berth boat, which costs $25,800 a week to charter during peak season, is used in Dusky and Breaksea Sounds for private history sightseeing, diving and fishing trips. Dusky and Breaksea Sounds are considered the most premium sounds to explore, with all trips aboard the Pembroke customised for her passengers, including a skipper and chef.
Built for the New Zealand Government in 1962 and weighing over 65 tonnes, the Pembroke is thought to be the oldest charter boat in the Fiordland area.
Operating in such a remote area means the vessel is usually accessed by helicopter from Te Anau, but she travels through to either Bluff or Dunedin by sea every two years where she is lifted from the water for an extensive service and any repairs or updates needed.
"Unfortunately, this trip they were stuck for someone to provide a carpet cleaning service in time for their departure from Bluff to meet back up in Fiordland for the next charter trip to depart," says Glenn.
"When Paul rang with the 'SOS' call to see if CrestClean could assist, it was obvious that urgent action was needed to ensure the vessel could leave on time."
CrestClean raised the anchor, with carpet specialist Martin De Guzman and his wife Maricel travelling to Bluff to carry out a full clean of all the carpet and fabric walls on the boat in time for it to head back to Fiordland that afternoon.
"Paul was very grateful for the assistance that CrestClean provided in their moment of need," says Glenn.