Samy wins top regional award for the third time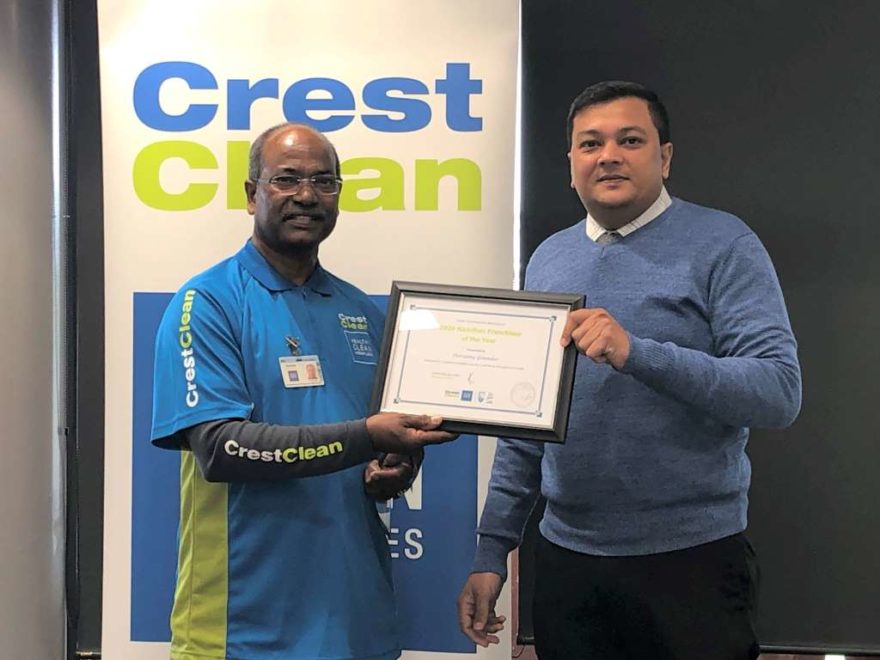 Long-standing franchisee Dorsamy (Samy) Goundar is building his own wall of fame, having been awarded Waikato Franchisee of the Year for the third time.
Samy, who has been with CrestClean for 17 years, says he is extremely proud of the achievement.
"I am so proud that my hard work is appreciated by CrestClean and also the customers and franchisees. Being passionate and hardworking has brought me so far in this journey. The last 17 years have been challenging and exciting for me and my business."
Samy says the secret to his success is getting to know his customers, looking after them and making things easy for them.
"Those are the most important things. I have a good relationship with them, and I make sure I'm a one-stop-shop by providing carpet cleaning and hard floor cleaning as well, so they only have to come to one place, so it's easy for them."
The rapport he has with customers and the positive feedback he receives is what keeps him in the job.
"I have been doing it for some time and I still enjoy it. I've never looked back; I've just carried on."
Having started as a part-time business, Samy now employs four people and is one of CrestClean's largest Waikato operators. He is also an Induction Trainer, passing on his knowledge to new franchisees.
"So far I think I have trained about 70 per cent of our Hamilton franchises. I go out of my way to make sure my trainees understand so they can become excellent franchisees. This training is the first step in building the foundation for a successful franchise."
Waikato Regional Manager Nivitesh Kumar says Samy's enthusiasm for his work has not waned over the years.
"Samy is one of our first franchisees, so he's been with us for a while — and he still has the same passion for cleaning and customer service as when he started," he says.
"He's brilliant, he takes the time to meet with his customers and all his customers love him. He's also very proactive. If he sees something that needs attention, he lets me know about it straight away. We never have customer complaints."