New wheels kitted out for success with innovative shelving solution
When Tauranga CrestClean franchisee Hasitha Heenatigala bought his cleaning business, he wanted a vehicle that was safe, professional and fit for purpose.
And, having kitted out his brand new LDV G10 with carpeted shelves to contain all his cleaning equipment, he has achieved all three.
Tall enough to stand up in, and with everything neatly in its place, Hasitha says getting to sites and accessing everything he needs is a breeze.
Plus, he doesn't have a messy van to tidy at the end of the day.
"I thought it would be quite cool to have places for everything because when you drive it tends to go everywhere," says Hasitha.
"If it's not organised you will spend more time finding stuff when you go to sites, and if the clean stuff gets mixed up with the dirty stuff, you get cross contamination."
Hasitha bought the business last month, with his wife, Hashini Pettagan, brother, Suneth Peiris, and mother-in-law, Silina Jayanthi, all working in the business.
He chose the LDV G10 because he wanted a vehicle big enough to meet future growth.
"We want to grow the business se we needed a spacious vehicle, that's why we didn't go for a car," he says.
And, with an attractive finance rate and price tag similar to second-hand vehicles he had looked at, it was an easy choice to buy new.
"We can claim the GST back and it's got a four-year service plan and warranty, so the upside is we won't have any breakdowns."
Hasitha says he got the idea for shelving from another franchisee but added extra compartments for larger items like mop buckets and vacuum cleaners, and a layer of carpet throughout for protection from wet and dirty equipment.
"It cost me nearly $700 for the shelving, carpeting and labour. That $700 is well spent! You open the door and everything you want is right there. You take out what you need and in two minutes you're on the job."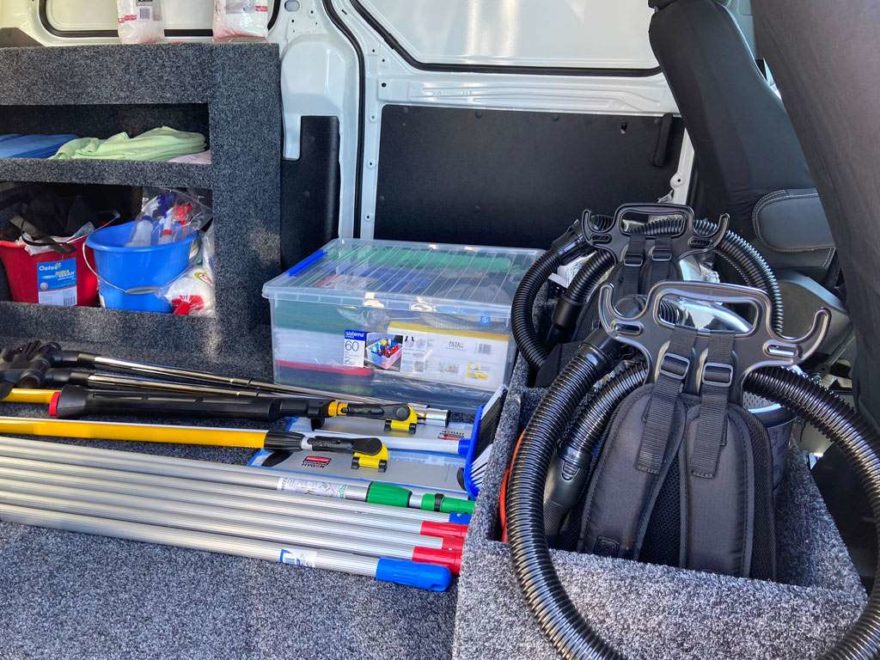 Ian Noon, CrestClean's Health, Safety and Wellbeing leader, praised Hasitha's initiative.
"The fully shelved vehicle storage enables the team to easily reach whatever they need without overreaching to do so," says Ian.
"Simple things like this make for efficiency of movement and reduce the risk of strains, while the addition of a cargo barrier would enhance the safe use of the vehicle even further, preventing the possibility of anything striking the person in the front, particularly during heavy braking."