Clean sweep builds new lifestyle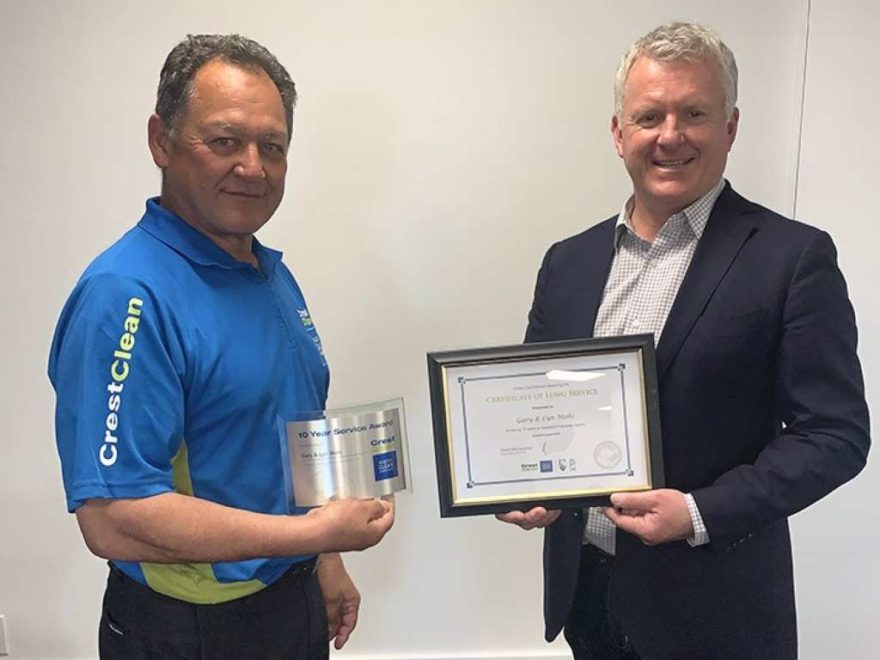 Ten years ago, Gary Mohi traded in a hammer and nails for a mop and bucket — and he hasn't looked back.
"It took me a couple of years to get used to it, but now I'll be driving somewhere in the middle of the day and it'll be pouring down with rain and I'll see some of my old mates working on the roof, and I'll think 'nah'," says the former builder.
Gary, who recently received a 10-year Long Service Award, bought a CrestClean franchise as a stopgap measure when, after 30 years in the construction industry, he hit a lull in work.
"I had my own little building company. The body was starting to get a bit tired and in 2010 there was quite a drop-off in the industry. I used to go to jobs and find myself pricing against big companies who were basically buying the works, so I thought I'll just get a little job to supplement what I was doing," he says.
"I looked at a lot of franchises and after talking to a few people I decided that CrestClean was a good option."
The plan was to sell the business when the building industry picked up again, but Gary soon found that owning a CrestClean franchise gave him the work-life balance he had been looking for.
"I decided I didn't like working in the rain and the mud anymore, dragging concrete around. I didn't have to fight for carparks and, with all the training and support from head office, it suited me," says Gary.
"It wasn't as hard on the body and all the systems that were in place saved me a lot of work. All I had to do was go to work and enjoy the free time."
The new lifestyle meant Gary got to spend more time with his wife and children, and he even had time to train for and complete the Lake Taupo Cycle Challenge.
"I wasn't coming home exhausted after working 10 to 11 hours on a building site."
Gary has just two clients, one of which is a daycare centre that he has cleaned since he bought the franchise and the other is Te Taiwhenua o Heretaunga, an organisation that works with whānau across a number of sites.
With his building skills, Gary often throws in minor handyman work for free.
"I fix up bits and piece, which usually means less mess for me!"
With much of his day free to spend as he chooses, Gary says he's "living the dream".
"I start work about 4pm and in the morning I basically do what I want. I'm better of physically and financially. I wouldn't go back building, even though my phone's still ringing."
Hawke's Bay Regional Manager Tim O'Leary says Gary is a "good man", who runs a largely autonomous business.
"He's secured his own contracts and has built close working relationships with his clients," says Tim.
"He has successfully built a lifestyle many people would be envious of — when he's not working he gets to play golf and go fishing."