New Regional Managers fishing for new business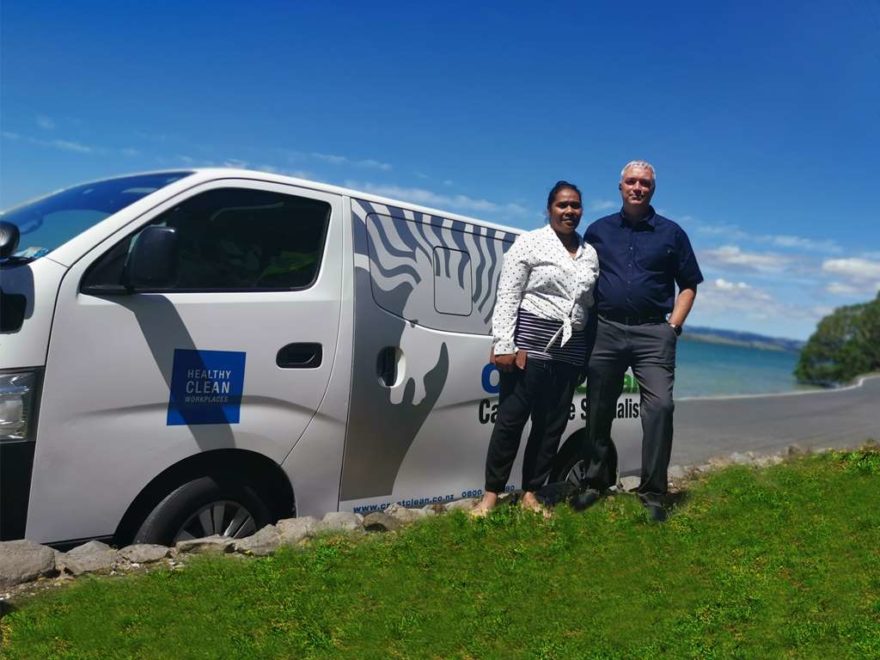 As far as fishing goes, trout never held that much of an appeal for Kent Wilkinson.
But, now that he's swapped the pebbly shores of Lake Taupo for the sandy beaches of Northland, he is looking forward to getting his fishing rod out again.
And saltwater fish are not the only thing he's hoping to catch — he's also fishing for new customers and franchisees.
Having owned a successful CrestClean franchise in Taupo for 10 years, Kent and his partner Nancy Nandan moved north in December after becoming the Regional Managers for Whangarei and Kerikeri.
With a number of new customers already on the books, they are looking to grow the region and attract new franchise teams.
"I was looking for a bit of a change, something more challenging, and now I've got it!" says Kent.
"There are seven franchisees in the region at the moment but we're planning to grow, and we've already had some success."
The couple made the move in search of a better lifestyle and to be closer to Nancy's children.
"Nancy's kids are all at university in Auckland and it was a long way to go for just for a weekend," says Kent.
"Our franchise in Taupo had been up for sale for a while. So, when we were approached about becoming regional managers for Whangarei and Kerikeri, we made the decision pretty quickly."
After doing their research, Kent and Nancy took a road trip to check it out and decide if they would be happy living there.
"I had only been to Whangarei once when I was 13-years-old, so I didn't have any experience of the place. We drove up on a Friday morning and came back that night and made our decision. We really loved the scenery," says Kent.
With Kent having grown up in Whakatane and Nancy in Fiji, they are both enjoying a return to a coastal lifestyle.
Having rented a house across the road from the beach, they plan to buy or build a new home once they have settled in.
In the meantime, they are looking forward to spending their weekends exploring the region — plus a spot of fishing.
"We plan to relax and enjoy our lives, not work 24 hours a day and travel all weekend. There's plenty of places to visit and a wharf you can fish off. I've already got fishing gear, but I haven't used it for a while — I wasn't into catching trout; who wants to eat trout?"