Teneaki and Francis celebrate 10 years of success and togetherness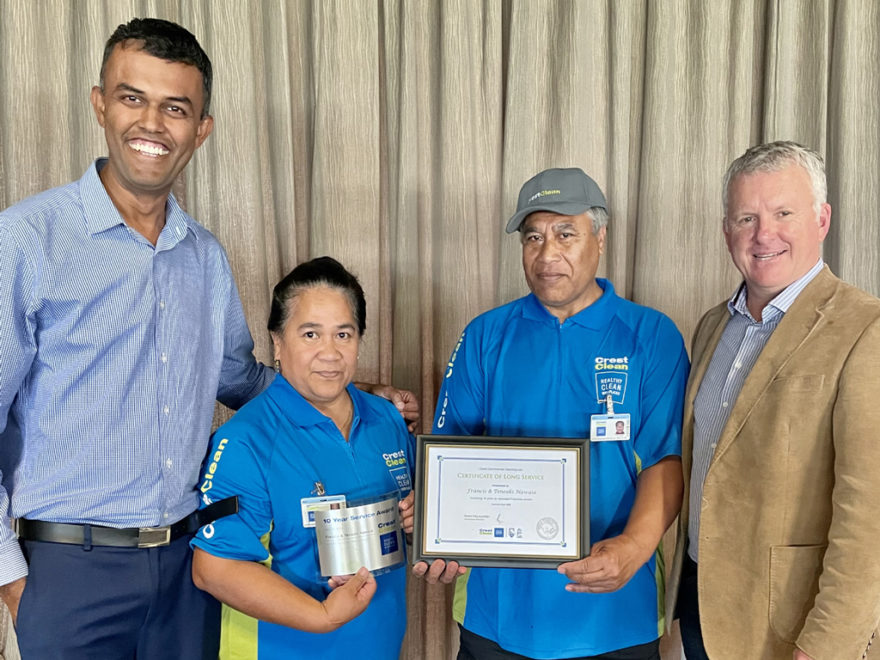 Spending time together as a family was few and far between for Teneaki and Francis Nawaia when they lived in Kiribati.
Working as a deckhand on cruise ships, Francis would be away for up to up to 18 months at a time, leaving Teneaki to raise their eight children largely on her own.
But now, as the owners of a successful CrestClean franchise, they enjoy an abundance of family time with their children and eight grandchildren.
And soon they will be moving into a brand new, three-bedroom home in Wellsford.
"It's been an amazing journey for us. We own our own business; we are our own boss and the income is good. Without CrestClean we would not be where we are today," says Teneaki.
Teneaki and Francis, who bought their North Harbour franchise in 2010, are proud to have recently received a 10 Year Long Service Award, representing the decade of hard work that has gone into realising their dreams.
The couple moved to New Zealand from the remote island nation of Kiribati in 2007 with their two youngest children, and their other six children joined them in 2009 once they had gained residency.
"The separation, and looking after the children on my own, was hard. We moved to New Zealand so we could all be together," says Teneaki.
Initially, Francis worked on a capsicum farm and Teneaki as a caregiver in a rest home, supplementing their incomes with part-time cleaning work.
When a friend suggested they consider buying a CrestClean franchise, it just made sense.
"We had a part-time job before, cleaning for someone else. Our friend introduced us to CrestClean. She said it was better to join CrestClean than work for someone else," says Teneaki.
"We are so proud of what we have achieved, we have lots of friends at CrestClean and now we have bought our own house."
Their children have all finished their schooling and are now either working or studying.
"They had a good education, which is something we are really grateful for."
CrestClean North Harbour Regional Manager Neil Kumar says Teneaki and Francis are hard working with a positive attitude.
"They go out of their way to make their clients happy," says Neil.
They have steadily grown the business to a turnover of more than $200,000, including additional carpet and hard floor cleaning work.
"They are nice, friendly people and the quality of their work is amazing, well above standard," says Neil.
"I am extremely happy to see Francis and Teneaki build their home — it's something I would like all my teams to achieve."