Pride of Workmanship Award for Invercargill franchisee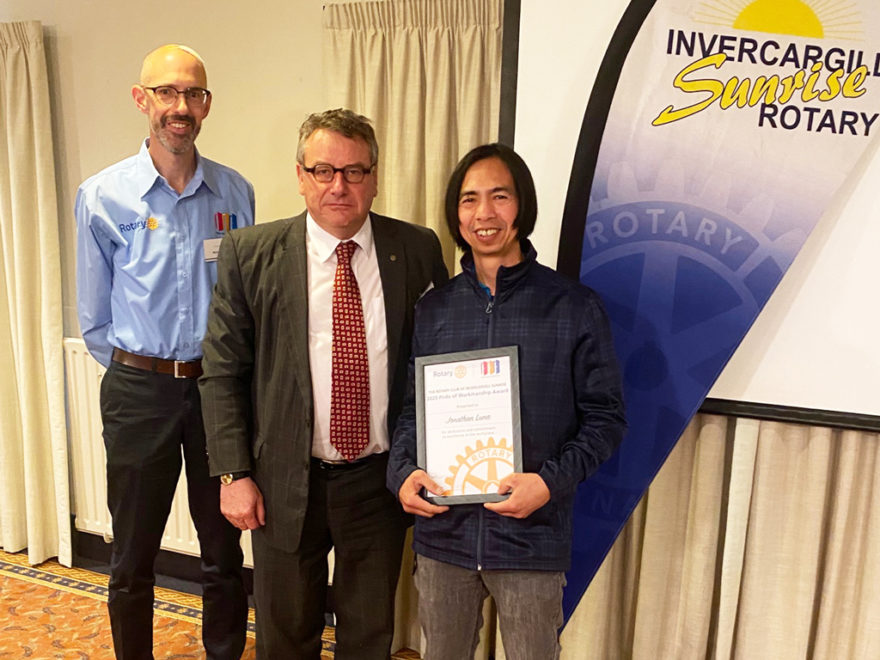 From veterinary tutor, to milking cows, to cleaning, Jonathan Luna has always taken pride in his work — and now he has an award to prove it.
The CrestClean franchisee is the proud recipient of a Pride of Workmanship Award, presented to him by Invercargill Sunrise Rotary.
The award acknowledges people who display outstanding qualities in terms of their approach, attitude, dedication and commitment to their job. It covers all aspects of work performance and ethics, including quality and quantity of output, customer service, safety, initiative and sense of responsibility.
"It was really wonderful, but at the same time I was a wee bit surprised. I never expected to be given this kind of award," says Jonathan.
Jonathan received the accolade after being nominated by Allan Mitchell, who was the principal of Waihopai School at the time the award was given.
"Allan nominated Jonathan because of the tremendous work he was doing at the school and the great pride that he takes in not only cleaning the school, but also as their caretaker," says Glenn Cockroft, CrestClean's Invercargill Regional Manager.
"In the mornings Jonathan starts at the school with his caretaking role, then he takes a break midway through the day and returns in the afternoon with his wife Janeth to do a thorough clean of the school each day."
The school is "absolutely delighted" with Jonathan's positive attitude and exemplary work ethic, says Glenn.
"That's why he was nominated for the award, and it is very well deserved. Jonathan has been with CrestClean for six years and has worked hard in that time to grow a successful business."
Jonathan says he loves his job, which is both challenging and rewarding.
"I really like doing it because I love fixing things, and at the same time socialising with the teachers there. Most of them know me quite well, even the kids."
In the Philippines, Jonathan completed a Doctorate in Veterinary Medicine, tutoring at the university after he graduated, while Janeth worked as a primary and secondary school teacher.
Jonathan moved to New Zealand from the Philippines in 2007 to work on a dairy farm in Southland. He was later joined by Janeth and their two daughters, Jyra and Jaslyn, and the family became New Zealand Citizens in 2018.
They bought a CrestClean franchise after talking to friends, and have grown a successful business which has allowed them to build a new home and enjoy lots of quality family time together.
You can read their full story here.