Seafaring franchisee on board with cleaning career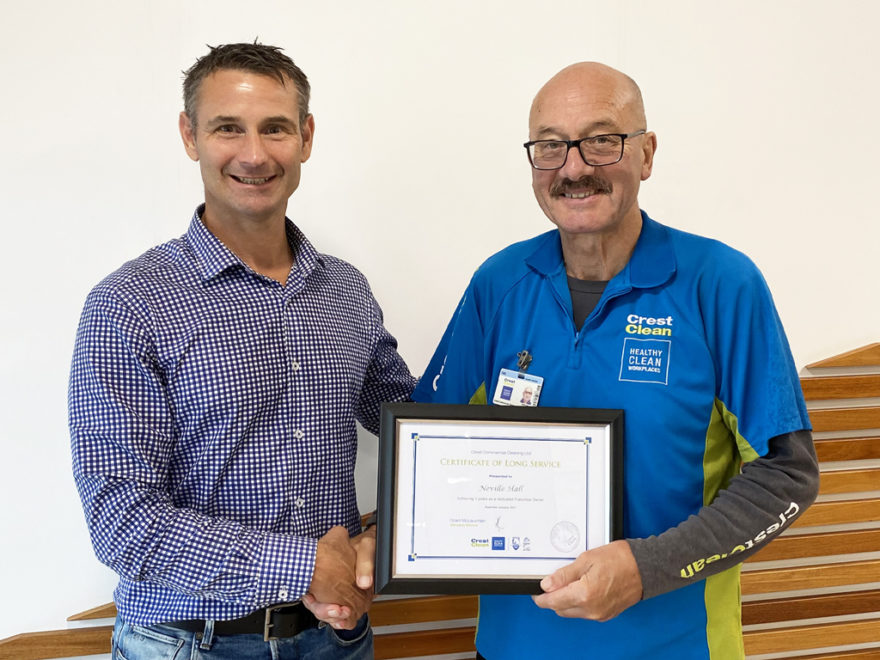 With a maritime career of 30 years behind him, Neville Hall is used to keeping things shipshape — and now, as a CrestClean franchisee, things are no different.
"My background on the ships was always in hospitality and housekeeping. As the onboard services manager part of my role was to do a weekly inspection of the accommodation and the public rooms for cleanliness and all those things which are of paramount importance to me in my current role," says Neville.
"The ships taught me a lot and brought me a lot of joy — and I bring little bits of it into my current role, because it's transferrable. You're taught to be a systems person on the ships and as a CrestClean franchisee I have my systems and it works a treat. And because my clients can see I've got a routine, that makes our relationship very positive."
Neville, who recently received a 5-Year Long Service Award, says although he is 71 years old and has a full and memorable career behind him, he wanted to keep working in a job that would keep him fit and healthy.
"I couldn't sit around the house; I need to have a purpose. I've always been a very active person. I relate it to going to the gym five days a week for 10 hours a day, and if that doesn't keep you in good nick then nothing will."
Neville's love of all things nautical started when he left school and got a job with the Union Steamship Company in Tauranga as a travel consultant. After three years he transferred to Wellington, where he later worked on the inter-island ferries.
As well as countless voyages across the Cook Strait, Neville got to go on some deep sea adventures, bringing the Arahura to New Zealand from Denmark for the Wellington to Picton service, and the re-delivery of the Rangitira back to Cornwell, England, after the Wellington to Lyttleton ferry service was discontinued.
"Over many years and many experiences with weather, you appreciate the skill of the people around you, for example the Master who is the ship handler, and how they compete with these rough seas in order to get you to your destination safely," says Neville.
When he retired from working on the ferries, Neville travelled overseas before buying a motel in Hastings, and then moving back to his hometown of Tauranga in search of a new business opportunity.
He found it in a CrestClean franchise.
"It's the kind of thing that I enjoy, turning dirty into clean. My business is a great little business and CrestClean is a good company. They're there to support you and it takes a load of your mind, especially not having to chase money. And they have meticulous systems and methods that they use which I think puts CrestClean a number of steps ahead of any competitors that are out there."
But, while he is happy in his new role, Neville's seafaring days are never far from his thoughts.
"I loved the maritime, not only for the atmosphere, I loved it for the characters and the humour. Even in my current role when I'm vacuuming at night I will sometimes reflect on my days on the ships and I burst out laughing. If there was someone watching they'd think 'this guy's gone off his rocker', but these things, they're still funny and they'll stay with me."