Brotherly success sees CrestClean franchise grow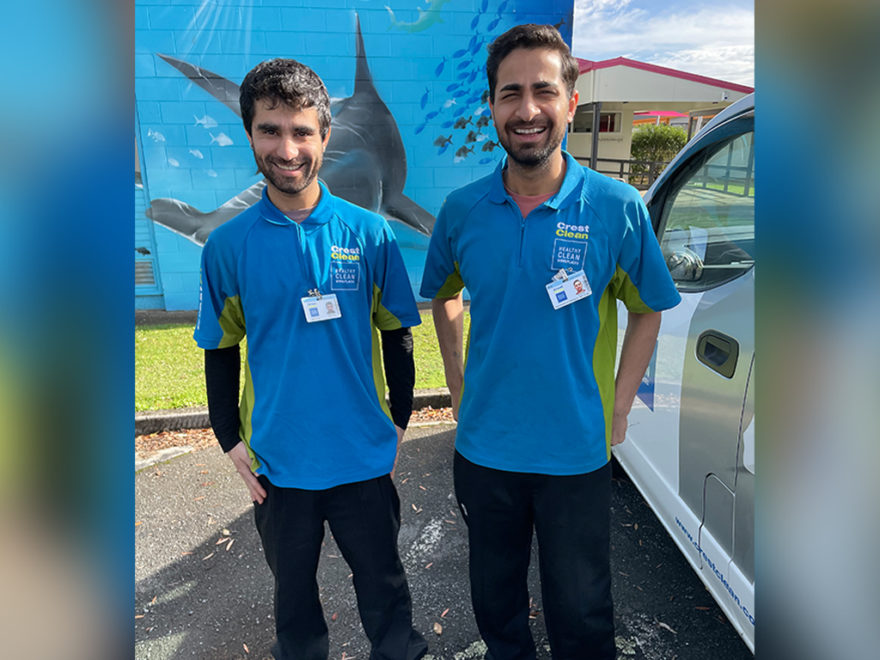 A chance meeting by a lake in Rotorua lead to an unexpected change in career for Mohit Sharda.
Unhappy in his job as the head chef of a busy restaurant, Mohit was out walking by the lake when he struck up a conversation with a CrestClean franchisee.
"I saw his CrestClean vehicle so I randomly went up and started talking to him. He was from India too, so it was easy to talk to him," says Mohit.
"He had started his business a year and a half ago and was doing really well. He told me I should buy a CrestClean business and gave me a number to call. It sounded like a good opportunity."
After making some enquiries, Mohit discovered there was a franchise for sale in Whangarei and decided it was the fresh start he was looking for.
In 2020, soon after getting his residency, Mohit, his wife Sophia Baker and their son Liyan moved north — and they haven't looked back.
And now, a year later, they have been joined by Mohit's brother Rajat, who has also moved to Whangarei to work in the growing business.
With Rajat's help, Sophia has been able to step back from the business and concentrate on being a mum.
"Sophia was helping me with the cleaning but now she is taking care of our two-year-old son. The business is going really well and we enjoy living in Whangarei. We've met some really nice people and there are so many things to do up here."
Mohit says he doesn't miss his job as a chef — a career path he took after his family encouraged him to learn to cook.
"In India I did a Bachelor of Commerce, but my family told me I needed to learn to cook for myself before I moved to New Zealand. So, I went to a cooking course so I could make my own dinners," says Mohit.
He enjoyed it so much that when he arrived in New Zealand he trained to be a chef, but after four years in the industry it lost its shine.
"I found it hard working for someone else, that's why I wanted to buy my own business," says Mohit.
"I would definitely recommend CrestClean. I have told so many people about it — one friend just got his residency and was asking about starting a business and I said 'you need to do this as well, it's a good opportunity'."
Whangarei Regional Manager Kent Wilkinson says Mohit and Sophia have worked hard and taken on board the advice given, almost doubling the size of their business in a year.
"They are really positive and always willing to take on more work. If there are any one-off jobs that need doing Mohit never says no," says Kent.
"It's great to see a young family like theirs doing so well."