Kāpiti Coast franchisee pays it forward by donating prize to charity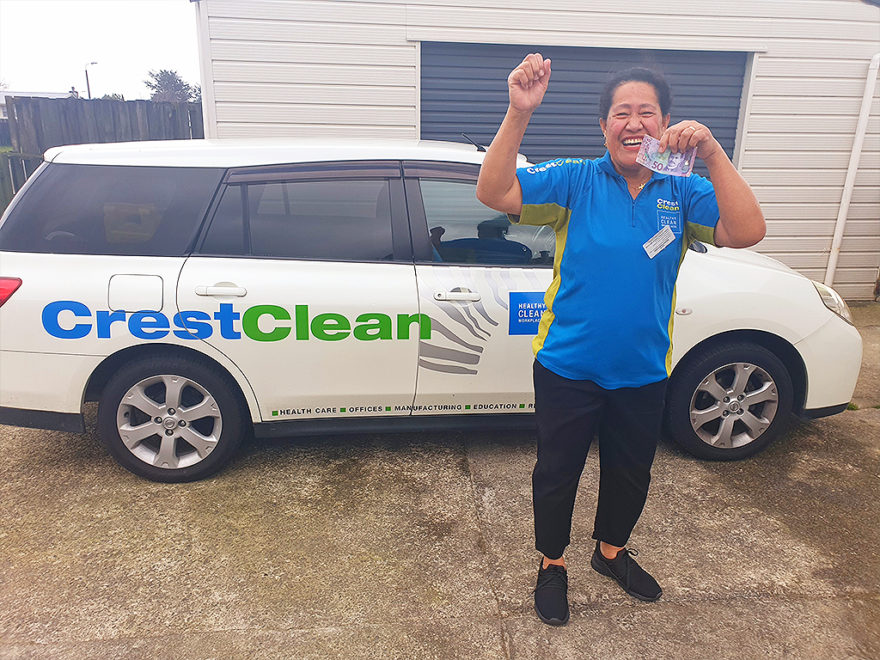 Kāpiti Coast franchisee Peta Faikimua believes what goes around comes around.
So, when she received a CrestClean Excellence Award, including a crisp 50 dollar note, she was quick to donate it to her local church.
"We come from a religious background, and as Christians ourselves we believe that the path we walked was painted by God," says Peta.
The award comes on the heels of Peta and her husband, Fai Aleke, being named Franchisees of the Year for the region.
Originally from the small Pacific island of Tuvalu, the couple have been business owners with CrestClean for five years.
"The main reason we chose CrestClean is because I can work in the afternoon and help pay for my children's education fees. It also helps me stay active," says Peta.
"It's had a huge impact on our children and their education, and it's helped a lot with our overall growth as a family."
Prior to becoming franchise owners, Fai worked full time on the Interislander ferry as a marine engineer and Peta at a meat processing plant, before staying home to look after the youngest of their five children.
"Through CrestClean, we have been able to provide for all of our children's needs. Our two oldest are at university and the business helps with their accommodation and food. Our middle child is in college and the youngest two are at primary and intermediate. Not only did it help with our children's fees, but it also made their education run smoothly," says Peta.
"Now that our eldest kids have almost finished university, we have realised just how much CrestClean helped and for that we are thankful."
Being awarded Franchisee of the Year is the icing on the cake.
"We never thought such a huge recognition would be awarded to us, considering it was not too long after we started working for CrestClean that we have received the award. My husband and I are filled with overwhelming joy. It shows how much our hard work is appreciated," says Peta.
"On behalf of our family, we want to thank the Managing Director Grant McLauchlan, alongside the CrestClean executive team, for all their support. Also, our beautiful Regional Manager Shareen Raj, for all the times she has helped us."
Shareen says Peta and Fai are one of the best performing franchise teams in the region.
"Their customers are very happy with how prompt and reliable they are. They are very friendly, kind-hearted people and always go the extra mile when needed," she says.
"For instance, when one of their customers needed a seven-day sanitising service during last year's nationwide lockdown they were more than willing to do it. They wanted to make sure the customer was provided with a good service, and to maintain the relationship with the customer. They are just so approachable and know the value of providing a quality service."